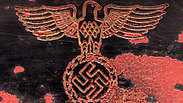 A Nazi relic
Photo: Alexander Historical Auctions
Administrators of an Austrian fund created to compensate Jews and others illegally stripped of property and finances by the Nazis say the fund has awarded over $200 million (nearly 190 million euros) to more than 18,000 applicants since its inception.

The claims committee of the General Settlement fund for Victims of National Society says 18,155 people—nearly 88% of applicants—were awarded compensation, sometimes on multiple claims.

In its final report, the committee says nearly $212 million (nearly 200 million euros) were disbursed to claimants since the fund was set up 16 years ago.

It says it is still possible to lay claim to payments until the end of April 2019, after which they become subject to the statute of limitations.

According to estimations, more than 80 percent of the value of Jewish assets stolen by the Nazis and their collaborators still remains unpaid. This amounts to at least $188 billion in 2017 prices.