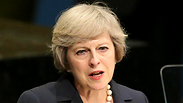 UK's PM May wishes Jews a happy Passover
Delivering her happy holiday wishes to the British and international Jewish community, Prime Minister May urges Jews to practice their religion freely, reaffirms plans to build a Holocaust memorial and education center near Parliament, and pays tribute to Jewish contributions in Britain: 'Without its Jewish community, Britain would not be Britain.'
British Prime Minister Theresa May delivered her Passover message to British and international Jewry, expressing her belief that Jews are an integral part of British society.

"As the festival of Passover begins, I want to send my very best wishes to Jewish communities in the UK and around the world for a very happy and peaceful Pesach," May began.

"As Jewish families come together to relive the story of escape from slavery in ancient Egypt, it gives all communities an opportunity to join with you in thanks for the liberty and freedom that we all hold dear."

The Tory leader then invoked the Holocaust, reminding Jews that her government remains committed to remembering its horrors but erecting a memorial in the most prominent spot in the UK—Westminster.

"The history of the Jewish people and the horrors of the Holocaust highlight what happens when freedom is lost and anti-Semitism is allowed to flourish. That is why we are establishing a national Memorial to the Holocaust, together with an accompanying education centre, next to Parliament at the heart of our democracy," she added.

"For in remembering the Holocaust, we will also reaffirm our national commitment to fighting hated and prejudice in all its forms in the world today."

May stressed the need for Jews to feel free to practice their religion, pledging to act as a guardian for the Jewish people.

"The freedom to practice your religion, without anxiety or prejudice, is one of the fundamental tenets of our society and as Prime Minister I will defend your rights to practice your faith without fear. As I have said before, without its Jewish Community, Britain would not be Britain," she continued before acknowledging the contribution to British Jews in society.

"Your community makes an enormous contribution to the UK and has excelled in every field helping create a successful and prosperous country," she concluded.

"So let me wish you and your family a Chag Kasher V'Sameach."

Prime Minister May is considered to be among Israel's staunchest supporters, as well as a genuine friend of the Jewish community.

In her first day on the job as the prime minister, May reaffirmed what appeared to be a genuine commitment to the British Jewish community when she decided to proceed with plans to have a dinner that she had scheduled months prior, with Britain's Chief Rabbi Ephraim Mirvis.