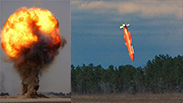 The GBU-43B
Photo: AFP, gettyimages
US 'mother of all bombs' kills at least 36 ISIS militants
US military's largest non-nuclear bomb killed at least 36 militants as it decimated a deep tunnel complex belonging to the radical Islamic terror group, Afghan officials said on Friday, ruling out any civilian casualties; Achin resident urges more similar attacks on ISIS: 'I want 100 times more bombings on this group.'
Afghanistan officials say the

US attack

on a tunnel complex in eastern Afghanistan with the largest non-nuclear weapon ever used in combat by the US military has left 36 ISIS fighters dead.

There were no civilian casualties, according to the Ministry of Defense statement, which also said that several ISIS caves and ammunition caches were destroyed.

Hakim Khan, 50, a resident of Achin district where the attack took place, welcomed the attack on ISIS, saying: "I want 100 times more bombings on this group."

President Donald Trump called the operation a "very, very successful mission."

The bomb, known officially as a GBU-43B, or massive ordnance air blast weapon, unleashes 11 tons of explosives.

The US Air Force calls it the Massive Ordnance Air Blast bomb. Based on the acronym, it has been nicknamed the "Mother Of All Bombs."

The weapon is a thermobaric bomb, which utilizes oxygen from the surrounding air to produce an extremely powerful pressure wave and tremendous heat.

As opposed to conventional, high-explosive munitions, which propel shrapnel in a quick, pointed manner, thermobaric weapons produce an explosion and pressure wave that is capable of traveling longer distances.

When used in a confined space such as a cave in this case, the effects of a thermobaric weapon like the GBU-43B are amplified as a result of being channeled and focused.

Gen. John W. Nicholson, commander of US forces in Afghanistan, said in a written statement that the strike was designed to minimize the risk to Afghan and US forces conducting clearing operations in the Achin area "while maximizing the destruction" of ISIS fighters and facilities.