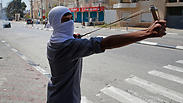 A Palestinian protester uses a sling shot to hurl towards Israeli security forces
Photo: AFP
Hundreds of Palestinians in Israeli jails begin hunger strike
Led by Marwan Barghouti, more than 1,500 of about 6,500 Palestinian security prisoners in Israeli custody protest for better conditions, end to detentions without trial, and more contact with relatives; Palestinians revere prisoners, calling them 'heroes.'
Hundreds of Palestinians in Israeli prisons launched a hunger strike Monday, in what their leader behind bars called a new step in the Palestinians' "long walk to freedom."

Activists said more than 1,500 of about 6,500 Palestinians held by Israel as security prisoners joined the open-ended protest and that it was the largest such strike in five years. The hunger strikers' immediate demands included better conditions, including more contact with relatives, an end to solitary confinement, and an end to Israel's practice of detentions without trial for some 500 Palestinians.

The strikers also want better medical treatment and that disabled inmates or those suffering chronic illness be freed, access to more television channels and more phone contact with relatives and more family visits.

In the West Bank and Gaza, thousands staged solidarity marches Monday to mark Prisoners' Day in the Palestinian areas.

The hunger strike was led by Marwan Barghouti, a prominent figure in Palestinian President Mahmoud Abbas's Fatah movement. Over the years, polls have indicated that Barghouti is the most popular choice among Palestinians to succeed the 82-year-old Abbas, who has failed to groom a political heir.




Barghouti was arrested by Israel in 2002 for his role in a violent Palestinian uprising against Israel and is serving multiple life terms. He is one of the best-known among thousands of Palestinians jailed for charges ranging from stone-throwing and membership in groups outlawed by Israel, to attacks that wounded or killed Israelis.

In an op-ed published in The New York Times, Barghouti wrote that Israeli prisons have become the "cradle of a lasting movement for Palestinian self-determination."



"This new hunger strike will demonstrate once more that the prisoners' movement is the compass that guides our struggle, the struggle for Freedom and Dignity, the name we have chosen for this new step in our long walk to freedom," he wrote.

The hunger strike was launched as the approaching half-century mark of Israeli rule over Palestinians appeared to generate new interest in the long-running conflict, which in recent years was often overshadowed by war and turmoil elsewhere in the region.


Field hospital
Israel denies Palestinian inmates are mistreated, and Public Security Minister Gilad Erdan said the Barghouti-led protest was "prompted by internal Palestinian politics and therefore includes unreasonable demands."

The Israeli Foreign Ministry said in a statement, "The Palestinian prisoners are not political prisoners. They are convicted terrorists and murderers. They were brought to justice and are treated properly under international law."

The Israeli Prison Service said Monday morning that disciplinary measures had been taken against the strikers, most of them Fatah members, and some of them had been transferred to separate divisions.

The IPS commented, "We have a lot of experience in dealing with hunger strikes, and have the capability and means to cope and contain them. We are not negotiating with the prisoners. We prepared in advance for the possibility of a strike, in coordination with other bodies, including the IDF, the Ministry of Health, COGAT, the Shin Bet, the police and others."

The prisons in which prisoners announced a strike were Gilboa, Megiddo, Nafha, Ketziot, Shikma, Ramon, Hadarim and Nitzan.

Erdan said a field hospital would be erected next to one prison - an apparent move to pre-empt transfers to civilian medical facilities, which could draw wider media attention.

Israel captured the West Bank, Gaza Strip and east Jerusalem in the June 1967 Six-Day War.

Abbas and his supporters seek a Palestinian state, roughly in the pre-1967 lines. The Islamic militant group Hamas, which seized Gaza from Abbas in 2007, has called for an Islamic state in a state that would include what is now Israel. Hamas recently suggested it would support a smaller Palestine state, without specifying if this would be a stepping stone to Israel's destruction.





In Gaza City, about 2,000 people turned out for a march, raising flags of different Palestinian factions.

Militants from Hamas surrounded cages on truck flatbeds depicting cells. One cage held two Palestinians in Israeli prison uniform. The other cage bore the pictures of two Israeli soldiers killed in the 2014 war between Israel and Hamas, and the pictures of two Israeli civilians who disappeared after entering Gaza, though atotal of three are believed to be held there. Hamas is believed to hold the two civilians and the remains of the soldiers.



"Your soldiers will not see the light unless the price is paid," read a banner on the truck.

Ismail Radwan, a Hamas official who participated in the march, reiterated Hamas's demand for a prisoner swap with Israel. In 2011, Israel swapped more than 1,000 Palestinian prisoners for Gilad Shalit, an Israeli soldier who had been held by Hamas for five years.

In the West Bank town of Ramallah, Barghouti's wife, Fadwa, joined about 1,500 marchers






"This massive strike sends a strong message to the Israelis, after 50 years of occupation, suppression and oppression, that the prisoners … will lead their people from behind bars," she said.

Qadoura Fares, who runs the Prisoners' Club advocacy group, said over 1,500 prisoners joined the strike and that more were expected to follow.

.

In 2012, hundreds participated in a large-scale strike that lasted 28 days, said Fares. In 2014, dozens of detainees who were being held without trial or charges staged a two-month-long hunger strike to demand their release.

Abbas released a Prisoners' Day greeting and called the prisoners in Israeli jails "heroes." He stressed that efforts would continue to ensure their release and end their suffering, and he made it clear that the issue of prisoners would always be central to the Palestinian people and its leadership.

The Palestinian leader called on the international community "to intervene quickly and save the lives of hunger-striking Palestinian prisoners." He warned of the worsening situation because of Israel's "stubbornness and its refusal to comply with the just humanitarian demands of the prisoners."

However, he refrained from mentioning Marwan Barghouti by name.

The Associated Press, Reuters, Raanan Ben Zur and Elior Levy contributed to this report.