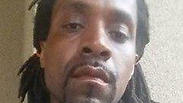 Kori Ali Muhammad
Photo: Reuters
A gunman who went by the nickname Black Jesus killed three white men in downtown Fresno, California, on Tuesday, and fired at another before he was taken into custody while shouting "Allahu Akhbar," police said.

The suspect, 39-year-old Kori Ali Muhammad, was also wanted in connection with the fatal shooting last week of an unarmed security guard at a Motel 6 in Fresno, Police Chief Jerry Dyer told reporters at a press conference.

Dyer said Muhammad fired at least 16 rounds from a large-caliber handgun in less than a minute at four downtown Fresno locations at about 10:45am local time before he was spotted running through the streets by a police officer.

"Immediately upon the individual seeing the officer he literally dove onto the ground and was taken into custody and as he was taken into custody he yelled out 'Allahu Akhbar,'" Dyer said. The term means "God is great" in Arabic.

"He does not like white people," Dyer said, citing the suspect's statements after being arrested and his Facebook postings. The chief said Muhammad, who is African American, used the nickname Black Jesus.

All three of the men killed on Tuesday were white, as was the security guard and the other man Mohammad shot at but missed.

Dyer said it was too early to rule out terrorism and that his department had contacted the Federal Bureau of Investigation to investigate, but portrayed the incident as "a random act of violence."

"These individuals who were chosen today did not do anything to deserve what they got," he said. "These were unprovoked attacks by an individual who was intent on carrying out homicides today, and he did that."

Zackary Randalls was the first to die when Muhammad walked up to a Pacific Gas & Electric truck and fired into the passenger seat. The driver sped to the police department for help, but Randalls could not be saved.

Friend Eddie Valencia said Randalls was excited to start work as a customer-service representative and was doing a ride-along Tuesday. He described the 34-year-old as an open-minded person with a sharp wit and a big heart.

The victims happened to be on the same block at the same time Tuesday but had no known connection to each other or to Kori Ali Muhammad, Police Chief Jerry Dyer said.

Mark Gassett, 37, of Fresno, had just picked up groceries at a Catholic Charities building when he was gunned down. His body was draped in a blanket on the sidewalk leading to Stephen Hughes' home.

"It looks like a guy carrying his groceries home from the store," said Hughes, 66, who rushed home after receiving a frantic call about the shootings from a neighbor.

David Jackson, 58, of Fresno, was gunned down in the parking lot of the charity's building.

Two Latina women and a child also crossed paths with Muhammad, who pointed the gun at them as they sat in their car trying to flee, but he did not shoot.

Dyer said Muhammad had been identified quickly as the prime suspect in the Motel 6 shooting on April 13 and that police had been urgently seeking him across the Fresno area since then.

Muhammad has a criminal history that includes weapons and drug charges and had spent time in state prison, Dyer said.

County government buildings were placed on lockdown during the shooting spree and residents were urged to shelter in place.

Local television images showed what appeared to be a body covered in a yellow tarp in a street near where police tape marked off several crime scenes.