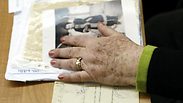 We must not keep silent in the face of the government's neglect of Holocaust survivors
Photo: Amit Shabi
For every decision made in Israel, there is a government worker making cost-benefit calculations. We must admit honestly that there is no benefit in Holocaust survivors, definitely no economic benefit, as they no longer work and don't pay taxes.

There are a lot of costs, however. They are old, they are sick and they are a burden on the health and welfare systems. With all due respect, there are enough associations and organizations helping them. There is no reason to increase the burden on the state.

No one will say this out loud, but this is the State of Israel's attitude toward Holocaust survivors as a systematic policy, and it didn't start today. "There is of course information here about all of that, but it's not a key fact in the experience of the Yishuv," David Ben-Gurion said while the Nazis were murdering millions of people.

It's not that there's anything he could have done, as the leader of tiny and powerless pre-state, but this statement says it all.

And today? The state comptroller's report released Wednesday tells only part of the story. According to the report, nothing is being done intentionally of course, it's just that damn bureaucracy which is making it difficult for the different governmental bodies to communicate with each other in order to carry out the simplest tasks, our basic and minimal obligation—to help Holocaust survivors live their last years in dignity. It's an obligation, because the State of Israel was established on the blood and ashes of the six million Jews who were slaughtered in Europe.

The thing is that when the government—as the state's executive body—really wants to advance something, it does it efficiently. For example, transferring funds to our people here or beyond the Green Line. Holocaust survivors, however, are not an organized powerful group. They don't join parties in masses in a bid to make a change from the inside, and they don't have "the new survivors" to care for them. Many of them are just thankful for the right they have been given to live, especially in the State pf Israel, where our redemption began.

"When we arrived in Israel, I was told that we must not whine and that we must be quiet, so we kept quiet," Leah, who immigrated to Israel from Romania upon the state's establishment, told me recently. It may be best, as the honorable licensed members of Knesset might even attack them if they dare complain about something.

For the State of Israel, almost from its inception, the Holocaust is in many cases an excellent tool for acquiring force against enemies and money and support from friends.

In practice, I doubt there is another government in the entire Western world which belittles the memory of the Holocaust more than the Israeli government and its members. It does so by constantly comparing different enemies to the Nazis, by adopting a discriminating and racist policy, and by systematically neglecting Holocaust survivors as part of an economic perception which helps the strong become rich at the expense of the weak and abandons the poor and the weak to deal with the situation on their own.

The attitude toward Holocaust survivors is not a stain on the prime minister and his ministers, however. Nor it is a stain on their predecessors. It is a stain on all of us, who keep silent, who shut our eyes, who click our tongues, who stare at the television and who write statuses on social media. We don't always have the power to make a real change, but when we have a cowardly government whose ministers and Knesset members are more concerned about their seat than about their citizens' wellbeing, the power is in our hands. We must pressure them, we must shake them up and, most importantly, we must not keep silent.