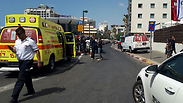 Scene of the incident
Photo: MDA
An 18-year-old Palestinian from Nablus in the West Bank stabbed and lightly wounded three men and a woman in Tel Aviv on Sunday afternoon in a terror attack near the Herods Hotel on Hayarkon Street, along the city's seaside promenade.
Shlomi Sagi, the commander of the Tel Aviv Police's Yarkon District, said the terrorist was overpowered by hotel staff and police.
"Since we were already deployed in the area, he was arrested within seconds," he said.
Security footage of the attack
Shortly after his arrest, the attacker was handed over to the Shin Bet and after a preliminary investigation, security officials concluded that the rampage was nationalistically motivated.
Magen David Adom paramedics provided emergency treatment to the victims before evacuating them to the Ichilov Hospital at the Sourasky Medical Center in Tel Aviv.
The wounded individuals included two men, a 50-year-old woman and a 70-year-old man.
Coordinator of Government Activities in the Territories Maj. Gen. Yoav Mordechai has frozen all daily permits to enter Israel after investigators found that the terrorist had a similar permit.
All permits will remain frozen and no new permits will be given until further notice.
Jacqueline was one of the wounded in the attack. "I was with my husband and a customer," she recounted. "Then someone came in and gave me this look. I asked him what he wanted and a second later he hit me in the ear with something and ran away. My husband chased after him and caught him outside, holding him until police came and arrested him. The terrorist cut me with a sharp instrument."
"This is another painful reminder to the difficult reality we're living in, particularly on the eve of Holocaust Remembrance Day," said Tel Aviv Mayor Ron Huldai.
"We thank everyone involved in the quick response, which prevented losses. We will not surrender to terrorism. I wish all wounded a quick recovery," he added.