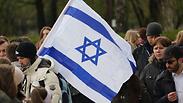 March of the Living
Photo: Motti Kimchi
European education ministers join March of the Living
12 European ministers of education along with Naftali Bennett and over 10,000 young people from 50 countries begin the three kilometer march between Auschwitz and Birkenau as a silent gesture to the six million Jews murdered by the Nazis and their accomplices.
IDF Chief od Staff Gadi Eisenkott and Twelve European ministers of education arrived at Auschwitz on Monday to take part in the 29th annual March of the Living.

"I am proud and honored to pledge that we will always remember the inhumane tragedy that took place in these camps," said Eisenkott before the audience gathered for the ceremony. "The commanders and soldiers of the Israeli Military will always be their voice."

Eisenkott speaking on Holocaust Remembrance Day




The education ministers join over 10,000 young people from 50 countries including Morocco, Panama, the United States and others.

"We are standing here in Auschwitz, the cemetery of the Jewish people in Europe, where only 70 years ago there was an unprecedented atrocity when the Nazis, industrially and deliberately, destroyed the Jewish people throughout Europe.

"The lesson here is that we need a Jewish state of our own and to defend ourselves, and the lesson for the whole world is to be human beings," said Minister of Education Naftali Bennett.

Bennett's Austrian counterpart, Sonja Hammerschmid, told Ynet, "We are here to look at what happened in the past, to understand and to make sure that such things won't happen. I think every citizen should know happened here and in order for it to endure, we need to start at the most basic level, the students."

Hammerschmid added, "Our message is to make sure that something like this does not happen again. This is done by bringing the students here to meet with survivors so that they will know and hear (what happened)."

An American student participating in the march told Ynet, "I am very happy to be here at the March of the Living and I think it is very important to remember all the families that perished in the Holocaust. It is also very important to continue living according to their tradition and their memories."

Chairman of the March of the Living, Dr. Shmuel Rosenman, said to the marchers, "Since the beginning of the March of the Living initiative, more than 250,000 youth from all over the world have marched on the track. We stick to the words of Elie Wiesel, to instill the memory of the Holocaust in the hearts of hundreds of thousands of young people all over the world, Jews and other religions, so that they too may be witnesses. To ensure that the Holocaust will not become a faded memory, but rather a lesson that every human being carries in his heart forever. "