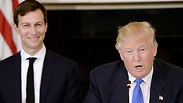 Kushner and Trump
Photo: MCT
Report highlights Kushner ties with one of Israel's wealthiest families
A report put out by media company Bloomberg underscores possible conflicts of interest that arise from having Jared Kushner, son-in-law and top aide to US President Trump, spearheading US efforts to broker peace in Israel, due to Kushner's business ties to the Steinmetz family—one of the richest in the country.
Jared Kushner and Raz Steinmetz—nephew of the Israeli billionaire Beny Steinmetz—purportedly share ownership of 15 buildings in downtown Manhattan worth over $150 million and several other lucrative arrangements, according to a report by financial media company Bloomberg.

The partnership and holdings are leading some to cry foul over a possible conflict of interest for Kushner, who has recently come into a significant amount of political power after being made a top advisor to US President Donald Trump. One of Kushner's new roles also includes attempting to solve the Israeli-Palestinian conflict.

Kushner's associate, Raz, is a member of the Steinmetz family, whose interests and holdings include diamond-mining, engineering and real estate.


Raz's uncle, Beny Steinmetz, has been the subject of an international investigation into bribery over the activities of one of his companies, BSG Resources, which secured mining rights in Guinea by allegedly bribing government officials.

Steinmetz has maintained his innocence.

According to Bloomberg, Steinmetz and Kushner's companies have been in business since at least 2012 and are engaged in a number of joint ventures including the aforementioned Manhattan properties, investing in Trump Bay Street tower in Jersey City and a partnership between Kushner Cos. and Gaia, an investment firm owned by Raz Steinmetz.

The report highlights a dubious relationship between Gaia and Bank Hapoalim, which is not only Israel's largest bank but also one of Kushner Cos. lenders.

Bloomberg highlights this problematic relationship—that of a senior US government advisor (with personal ties to the president) with business ties to one of the wealthiest families in a foreign nation the US is intimately involved with—as being indicative of weak US federal disclosure rules.

According to the Bloomberg report, real-estate investors can remain anonymous through shell companies, allowing businesses, individuals and foreign officials the opportunity to curry favor secretly with the administration through a real-estate investment.

The scant information available about personal and financial ties involving Kushner comes at a conspicuous time with many wondering whether or not Kushner can in fact, remain impartial given the breadth of his new role(s).