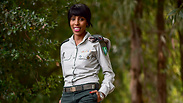 Yaros Shigot. 'A complete surprise'
Photo: Yuval Chen
'Father, you won't believe this—I'm going to light a torch'
Twenty-six years after making aliyah, Maj. Yaros Shigot—a proud Israeli, an IDF officer and a social activist—returned to Ethiopia for the first time to celebrate Passover and visit her father's grave. On her way to her old village, she was informed she had been chosen to light a torch at Israel's official Independence Day ceremony. 'I'm always looking for ways to contribute to the Israeli society and I don't expect anything in return. Lighting the torch is a bonus,' she says.
Major Yaros (Yerusalem) Shigot faced a unique mission last week: To climb the steep mountains of northern Ethiopia and return, for the first time, to the village she was born in, where she planned to visit the grave of her father, who she had last seen when she was four years old.

Shigot immigrated to Israel in 1991 with her mother and five siblings, leaving her sick father behind, as the exhausting journey would have been too difficult for him. He later passed away without getting to see his family again. Now, at the age of 30, Shigot—a proud Israeli, an IDF officer and a social activist—had a lot to update her father on. The highlight of these updates was the news she had received just several days earlier. "Father, you're not going to believe this," she whispered at the tombstone. "I'm going to light a torch."

Shigot, who serves as head of the information department at the IDF chief education officer's headquarters, spent the Passover visiting her native land. "I decided!" she wrote in a special column published after the Passover Seder. "For the first time in my life, I would take advantage of Passover and go toward freedom. I am on my way to my birth country—Ethiopia—to find an answer to difficulties that I often raised to my family."

The emotionally moving text, in which she described the Seder she attended in Addis Ababa received thousands of comments and shares on Yedioth Ahronoth's Facebook page. Several days later, while in Ethiopia, she received the surprising news that she had been chosen to light a torch at Israel's official Independence Day ceremony, which will be held on Mount Herzl on Monday evening.
5-hour pilgrimage from Gondar
From Addis Ababa, she planned to travel to Gondar, the largest city in northern Ethiopia. Most Ethiopian Jews lived in the villages surrounding the city. The goal was to march from there to her old village, to visit the mud house she was born in and the cemetery where her father is buried.
She received the news that she had been awarded one of the 14 torch-lighting honors a moment before boarding the flight to Gondar. "The head of my department called me through WhatsApp," she says. "I panicked. They knew in the army that I was on vacation, so what could be so urgent? And then she gave me the news, and I really couldn't believe it. I still can't believe it. It's a complete surprise. I had no idea that I was even nominated."
When she arrived in Gondar, Shigot had another surprise waiting for her there. It turned out that in the spirit of the holiday, reaching her old village would be a pilgrimage in the full sense of the word.
"I was told that it was a short walk from the city to the village, so I hit the road with flip-flops and some water," she laughs. "I walked and walked and walked, for five hours. I was shocked that it was so far. I felt completely out of breath." At one point, she became dehydrated and started throwing up. "It was a nightmare," she recounts. "I thought I was going to die."
But then, luckily, a few locals came to her rescue. "It was very moving. They escorted me, supported me, tried to encourage me and brought me water. The village is on a hill, and I was powerless when I reached the top. I wanted to go back. They insisted and told me that I would be there in a second, that I would see my father's tombstone in a moment. I rested for a bit, because I was in a really bad state, and I went on."
It was worth the effort. "I arrived at the village and saw the house I was born in and the plot of land that had belonged to my family. I visited the Jewish cemetery, which is very small, and lit memorial candles for everyone. I spoke to my father of course, and told him that I was going to light a torch. I immigrated to Israel as a small child, but I still remember images from the village. I remembered where my father used to play with me, and I saw the river my brothers used to bring water from. By the way, the people still bring water to the village from there. With all the difficulty, it was worth it."
Pure Zionism
The interview with Shigot was held from the Addis Ababa hotel she stayed in during her visit. After finding out that she had been chosen to light a torch on Independence Day, she was forced to shorten her visit to Ethiopia in order to participate in the rehearsals for the ceremony.

The theme of this year's ceremony will be the 50th anniversary of Jerusalem's liberation. The other honorees include singer and actor Yehoram Gaon, who was born in Jerusalem, and legendary Beitar Jerusalem soccer player Uri Malmilian. While Shigot was not born in Jerusalem and has not lived there, she is strongly connected to the city—her first name, Yerusalem, reflects her parents' deep yearning for Jerusalem.

"I don't think you have to live there or be born there to have a connection to Jerusalem," she explains. "All my life I heard this word, Jerusalem, but it really wasn't because of my first name. My family always dreamed about Jerusalem. The Sigd holiday is something we mark every year, even after making aliyah, because it reflects the Ethiopian Jewry's yearning for this city. Now, after visiting my village and realizing that my mother had to walk with six children from Gondar and then reach Addis Ababa from there in order to immigrate to Israel, I understand that even better."

Regardless of Jerusalem, Shigot is an excellent pick for lighting an Independence Day torch. Beyond her service in the Education Corps, she is a vibrant social activist who is working—as part of her military and civilian life—to fight violence and racism and impart the values of accepting the other to the people surrounding her. About two years ago, for example, she received an award from the chief of staff for her part in a project working to eliminate violence in the Israeli society. In her free time, she helps needy families, gives lectures and has recently initiated a project helping young girls at risk in Ashkelon.

"I come home from the army and dedicate my evenings and Fridays to all these things," she says. "But I don't expect any material return. I like what I do and I'm always looking for ways to contribute. As far as I'm concerned, lighting the torch is a bonus. Even if it wouldn't have happened, I would have continued doing everything that I'm doing in full force. It's a part of me."

Have you already thought about the messages you would like to convey in your performance at the ceremony?

"Not yet. I haven't reached that stage yet. I have been writing here a lot. I keep writing down everything I see and experience here. But only when I arrive and land in Israel, in the full sense of the world, I will have the time to think about the messages I would like to convey. I have learned here a lot. For example, about the connection to Israel, about the fact that when it comes to our country, nothing can be taken for granted. Many people think that people are driven to leave their homes in search for something materialistic, and you come here and see that it's pure Zionism. I feel that this is a concept which has been slightly erased in recent years. We have a long way to go."

Many Ethiopian immigrants were great Zionists, and then they came to Israel and were disappointed.

"Let's not play dumb. There is no doubt that the immigration from Ethiopia is different from the rest of the immigrations. There is a very significant difference between the life of Jews in Ethiopia and their life in Israel. I assume that if the state would had led different processes, slightly more accurate, the community members would have integrated a lot earlier. I am trying to advance this integration through my activities, both by empowering the community members and by exposing Israelis to the Ethiopian immigrants' story. This is the way to bring people closer together."