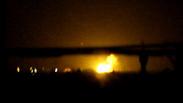 Explosions in Damascus airfield
Israel's covert war against Hezbollah's artillery
Analysis: After Israel completed its multi-layer defense system David's Sling, Hezbollah and Iran are increasing their artillery armament efforts, aiming to overpower the missile defense system by launching dozens of missiles and rockets at once; the attacks in Syria may be indicate the IDF's efforts to prevent that.
Reports of attacks in Syria attributed to Israel may indicate—one could certainly assume—a new stage in Israel's defense against Hezbollah and Iran.

This self-defense has lasted for more than a decade, but now it seems that it focuses on one particular thing: defense against artillery; mainly, the missiles and rockets that Iran provides the Hezbollah to strike a critical blow against Israel's home front.


Hezbollah and Iran's goal is to be able to threaten vital infrastructures—water, electricity, healthcare services, transport, airfields and emergency supplies—in a way that Israel will have a difficulty to recover from should a strike occur.

The new stage in Israel's strategic defense may have not started today, but is now picking up pace as Israel has completed its multi-layer missile defense system David's Sling, which became operational several weeks ago—completing what may be the most important layer in Israel's defense system.

This system, formerly known as Magic Wand, is designed to intercept enemy planes, drones, tactical ballistic missiles, medium- to long-range rockets and cruise missiles, fired at ranges from 40 km to 300 km, which essentially covers most of Israel's territories.

The Iranians and Hezbollah understand that the IDF's missile defense system, which is the first and only of its kind, challenges them and their ability to threaten and deter Israel. Even if they are not interested in starting a war with Israel at the moment, they always seek to preserve their level of deterrence against it.

For that reason, Iran has decided to change course and instead of arming Hezbollah with hundreds of thousands of imprecise missiles, they are now transitioning to an arsenal comprised mostly of precise missiles and rockets, some of which are even GPS-guided.

The explanation for that is simple: The Iranians and Hezbollah understand that David's Sling is capable of intercepting more than 80% of their rockets, and so they intend to battle it using sheer volume—making it so that the IDF's defense system has too many threats to defend against than it possibly could.

The Iranians also want to make sure that at least some of the missiles that will manage to pierce through Israel's defense system will not just land in open fields, and so they are upgrading Hezbollah's massive artillery—which is estimated to have more than 130 thousand missiles and rockets.

The aim is for the arsenal to be comprised of a larger percentage of guided and precise missiles and rockets, which even if only a few of them manage to avoid being shot down they will still inflict massive amount of damage.

This strategy is obvious to the IDF and worries Israel's security operators a great deal. In fact, due to Iran's increasing potential of nuclear capabilities it is now considered to be the main and most dangerous threat to the State of Israel due to its potential for large devastation in Israel's home front.
The important role of military Intelligence
Israel is fully aware of these threats, and is therefore making efforts to gain intelligence on Iran's attempts to arm Hezbollah with precise artillery and prevent Israel from stopping those shipments, sent to Hezbollah forces through Syria.

The attacks attributed to Israel on arms depots in Syria, if indeed carried out by it, show the increases efforts by both the Iranians to arm Hezbollah and by Israel to prevent it from taking place.

Iran is sending these shipments by—among other methods—commercial flights of Iranian or Iranian-owned airlines out of the assumption that Israel won't know that a regular commercial flight from Tehran to Damascus will also carry missiles and rockets, most of which in pieces.

It is not unthinkable that Israel's intelligence is working to learn of these attempts.

The battle between Iran and Israel's intelligence systems is held behind a thick cover of secrecy. The Iranians don't want to admit that they are arming Hezbollah through Syria since it breaches rules made by the United Nations Security Council. On its end, Israel is not admitting or denying that it is sabotaging these shipments.

And so, both sides are exploiting plausible deniability for their own interests, even if these "military installations" are hard to hide or ignore once they catch fire do to some "unknown missile strike."

(Translated & edited by Lior Mor)