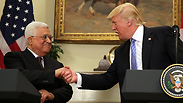 Trump and Abbas in DC
Photo: Reuters
Palestinian President Mahmoud Abbas said Tuesday that he was prepared to meet with Prime Minister Benjamin Netanyahu under the auspices of US President Donald Trump.

Abbas, who was speaking during a press conference with German President Frank-Walter Steinmeier in Ramallah, added that Palestinians are committed to peace with Israel on the basis of a two-state solution within the 1967 borders. Abbas further noted that the only way a solution would be possible is through negotiations.

Additionally, Abbas referred to the sensitive matter of Palestinian prisoners, saying that all the demands of the prisoners were humanitarian in nature and that Israel must respond to them.

Abbas's comments come just before President Trump makes a scheduled visit to Israel on May 22. However, the visit itself is now in jeopardy, as the Foreign Ministry Workers Union has threatened to disrupt the event.

Logistical operations for the visit, including position papers, preparatory meetings, supply orders, visas, diplomatic mail packages and other activities have not been done.

The decision to disrupt the visit was made because of what the union characterized as "the Ministry of Finance's contempt for an agreement with foreign ministry employees." According to the union, the Finance Ministry did not implement the wage agreement from two months ago, and until now, no draft has been accepted or any other initiative presented to end the crisis.

Against the backdrop of the lack of progress in an agreement, the union issued a directive to employees, saying, "We can only turn to the path of aggressive organizational measures that will harm the issues on the political and social agenda."

In response, the Ministry of Finance issued a statement, saying, "In accordance with the agreements reached, the matter is in legal process, so it is not clear why the Foreign Ministry Workers Union is in a hurry to harm the foreign relations of the State of Israel."