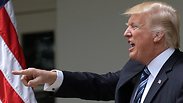 US President Trump. Anyone who tried to trade in Jerusalem had his fingers burnt
Photo: Reuters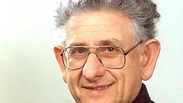 Elyakim Haetzni
Photo: GNET
The new rescue anchor of those who expect American presidents to force Israeli governments to do what they want is "the business approach," which is ascribed to Donald Trump. As he has been accustomed to all his life in the business world, he will offer the parties a "deal," and being the impatient and short-tempered man that he is, he won't let Prime Minister Benjamin Netanyahu evade it.

That's a mistake, Mr. President. From a commercial aspect, a peace deal with the Jews is actually a very bad deal for the Palestinians, because just like the Saudis live off oil, the Palestinians live off the "conflict" with the Jews. Why is the world donating billions to them, while other Arabs who are suffering greater injustices are not receiving a penny? Only because their conflict is with the Jews.

The Palestinians serve as a drainage pipe for anti-Semites who cannot voice their hatred out loud: Jews as murderers of Christian babies are out of fashion, but Israelis can be accused of murdering Palestinian children. Jews as exploiters and abusers—no; Israelis as robbers of Palestinian lands—yes, and it's the same thing. There is huge demand in the world for these goods. Removing them from this cycle in favor of a peace deal will bring forth a collapse of the Palestinian economy.

And on a more serious note, there is a fundamental failure in drawing an analogy between a business deal and a political-territorial conflict. In a commercial deal, the buyer is interested in the goods and in nothing beyond that, and the seller is interested in money and nothing else. A diplomatic deal, on the other hand, has many other consequences.

Here's a radical example: In 1938, British Prime Minister Neville Chamberlain returned from Munich, waved a piece of paper and cried out excitedly, "I have his signature!" It was Adolf Hitler's signature on the "peace for our time" agreement, permitting Nazi Germany's annexation of the Sudeten region from Czechoslovakia.

Chamberlain thought he had reached a deal, but he made a serious mistake because Hitler just saw the Sudeten area as a means to destroy the Czech state on his way to conquer the world, as he openly wrote and declared. The same applies to the Palestinians, who have not concealed their dream to put an end to the State of Israel, "the Zionist entity." Anyone who knows that and hands over the Judea and Samaria mountains to them is signing a death warrant.

Trump is well aware of that too, which is why he harshly criticized his predecessor, Barack Obama, over his compromising-bargaining approach towards the Iranians, Syrian President Bashar Assad and North Korea. If he offers us Obama's methods, we will ask him why he isn't offering deals to the ayatollahs from Tehran or to Assad.

The bottom line is that not everything is merchandise in the market. Real estate in Manhattan is not equivalent to the lands of Jerusalem: There, they have the largest market of lands in the world; here, we have the supreme expression of absolute values with a spiritual baggage that cannot be weighed, measured, bought and sold. In other words: No deal, Mr. President. And Jerusalem is just the gist of the essence of the entire "Holy Land," and all those who tried to trade in it got their fingers burnt.

In a nutshell, for thousands of years the Jews were scattered in all parts of the world. What kept them together was the hope of returning to Jerusalem and to the Land of Israel one day. When they finally arrived, after a dreadful Holocaust and countless wars, is it reasonable to expect them to suddenly give up their long-awaited goal in exchange for some kind of deal? It hasn't occurred to you, distinguished President, to offer Britain a deal over the Rock of Gibraltar, which Spain claims to own, or over the Falkland Islands, to which it sent soldiers, thousands of miles away, to reconquer from Argentina. You wouldn't offend China by offering the Dalai Lama a deal on Tibet, or the Indians by offering a deal on Kashmir.

There is only one guinea pig left to try a presidential deal on, and that's us. Why?