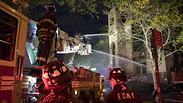 Manhattan synagogue up in flames
Photo: EPA
A raging fire broke out on Sunday night at a 19th Century synagogue on the Lower East Side of Manhattan.

The fire broke out around 7:00 pm local time at the historic 167-years-old Congregation Beth Hamedrash Hagadol synagogue, according to NBC New York.

Videos uploaded to social media showed heavy flames raging from the top of the building, which appeared to be severely damaged.

The intensity of the flames prevented firefighters from entering the synagogue, and so they were forced to battle the fire from the outside . The roof of the synagogue collapsed during the event.

"We could see smoke from our roof on 10th street and 1st avenue," Lower East Side resident Robbie Swain, 21, told the New York Post. "It was bad, dude—insane. Never seen anything like this before," added the 21-year-old.

"When it was going, it looked like a giant brick oven (inside). I swear to you, like straight up everything inside was on fire, fire 150 feet up," said 36-year-old Danny Agnew, also speaking with the New York Post. "I thought the whole thing was going to collapse. The fire was almost as tall as the building behind it—not smoke, straight up fire."

There were no reports of injuries, nor was it immediately clear what sparked the fire. The cause of the fire is being investigated, and a search of the grounds around the synagogue will be done Monday, according to NBC New York.

According to the the New York Times, yhe abandoned building, which was built in 1850, once housed the city's oldest Jewish Orthodox congregation.