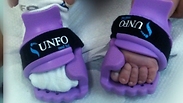 Step by step: The Israeli who is helping toddlers walk
Dr. Izak Daizade encountered thousands of infants born with malformed feet. After seven years of research, he developed a brace—the Universal Neonatal Foot Orthotic—that makes surgical intervention on severely pigeon-toed and club-footed newborns a thing of the past; 'We want to help infants all over the world and will let nothing stand in our way.'
Eilon Daizade, CEO of UNFO Med Ltd, seeks to "revolutionize the standard of treatment and the official therapeutic protocol for metatarsus adductus (MTA) in newborns."
At present, four percent of infants are born with some symptoms of Metatarsus Adductus (MTA), a common foot deformity noted at birth that causes the front half of the foot to turn inward.
According to Dr. Izak Daizade, until just a few years ago, pediatricians and orthopedists had only evasive answers for parents whose children were diagnosed.
"They would ignore the issue and say the problem would resolve itself, or shift responsibility to the parents, or, in extreme cases, put the newborns in plaster casts," he explains.
'I decided to make my father's dream come true'
Dr. Daizade founded Universal Neonatal Foot Orthotics (UNFO) in 2010 and serves as its chairman. His two sons both work there, Eilon as CEO and Liron as Vice President for Quality Assurance and Control.
The father was born in Tehran, where he attended medical school, but he was forced to leave in 1979 when the Islamic Revolution broke out. Daizade and his family moved to Israel, where he completed a residency in neurosurgery, vascular and general surgery, emergency medicine, and orthopedic surgery at Beilinson Hospital.
Over the years, he also treated newborns and realized there was no simple solution for MTA. All existing therapies were either irrelevant, troublesome, or invasive.
When Eilon was released from the IDF, father and son decided to realize a dream of Dr. Daizade's together. Liron came on board later on as a quality assurance and control engineer and helped the fledgling company meet the stringent global standards for orthopedic devices.
For seven years, Dr. Daizade developed his product in the lab. The product provides newborns' feet with the appropriate correction without having to be covered in a cast—at best—or undergo surgery—at worst.
UNFO's product resolves the underlying problem in the quickest and most effective way possible. "It is lightweight, does not keep the foot from growing, and does not require repeat visits to change the angle of the feet," Daizade says of the product's benefits.
The technology of the product is based on three-dimensional, bi-competent, high-pressure injections creating two materials with different features (stiff and soft) on the same production line to resolve the problem and prevent pressure sores in treatment.
Daizade explains that "In Israel, there is a diagnostic problem. Treatment depends on identifying the problem in time. We are therefore investing most of our efforts to raising awareness in the world.
"At present, it is possible to treat MTA only up to the age of six or seven months, before the infant starts to walk. If the problem is not treated by then, surgical intervention is necessary to correct the structure of the infant's foot."
'We will let nothing stand in our way'
Eilon says that throughout the process they had a single goal in mind.
"What is upmost in our mind is to help infants all over the world, and we will let nothing stand in our way to make that happen," he says. "We decided we would first stabilize the company using cooperative ventures with distribution companies because of their contacts and reach. But now we're strong enough to expand our target audience to anyone who needs the product, distribution companies as well as private individuals."
What about raising capital and a stock market issue?
"We're not ruling anything out," answers Eilon. "As long as we are sure that the other side connects with our product and has the same goals, we're open to negotiations." According to him, the market potential is $100 million annually.
Is any kind of training or learning required to use your product?
"Not at all. All that's needed is to be aware of its existence. In fact, treatment doesn't have to be in the hands of an orthopedic specialist. The moment a pediatrician diagnoses a malformation of the infant's feet, he or she can use our product."
The meeting that opened the door to the world
UNFO has clients in Israel, Italy, Africa, Ukraine, and South Korea, and approval from the FDA in the United States and the CE in Europe. The company has also registered patents in India, China, Australia, and practically every country in the world. "We want to reach the whole world to eradicate this problem for newborns," Eilon says.
"Even countries where we don't have distribution companies, private clients can reach us and place orders through our website. All you need is to be aware of the problem and the fact that there is a simple, effective solution that can prevent a lot of future heartache," he says. "When you search online for metatarsus adductus, we are the first hit you get."
Among the many countries and distribution companies that have trade agreements with UNFO, Italy stands out. Several years ago, Italy sent representatives to the Israel Export Institute's MEDinISRAEL conference. It was during a meeting organized by the Israel Export Institute's Medical Devices and Computerization Division to which UNFO belongs that the first contact was made. This in turn led to follow-up meetings and finally to a successful deal, which was part of UNFO's business plan.
"We provide the appropriate platform for creating business opportunities," says division director Tomer Epstein, "whether it's via pavilions at expos around the world, delegations to target countries, or visits-by-invitation to Israel by leaders in the field. We schedule meetings for Israeli companies with relevant parties in these settings, so that all that's left to the companies is to present themselves in the best light possible to the target audiences."
The medical devices and computerization branch of industry consists of some 1,200 Israeli companies, 40 percent of which have already started to sell their products. In 2016, the scope of the branch's exports was estimated at $1.8 billion.
"One of the aspects that sets us apart from other industry branches is companies' need to deal with regulatory agencies in the target nations," Epstein explains. "Part of the service the IEI provides is helping with the companies with the product approval process."
According to Epstein, the people at the IEI's branch division set up meetings and training sessions for regulators from the target nations with the Israeli companies to facilitate the registration of the products and technologies for use overseas.
Is there one particular medical field that is common among the developers in the branch?
"There is no one specific concern or approach that unites all or even most of these companies. But you can see that many of the original ideas for the companies' products and the people who started the companies were responding to a particular need in their immediate surrounding," says Epstein.
"For example, friends or relatives who ran into some medical process or test and felt the need to ease or simplify the ordeal. And there are also the doctors who routinely run into certain types of cases, understand that there is a gap, and try to fill it."
Asked about the key market for the companies developing medical devices and computerization, Epstein says that, as of today, the trending market is the United States, but this may be shifting as exports are growing to Asia, especially China, Japan, South Korea, and India, as well as Latin American and Africa.
Where is Israel in the field in relation to other countries?
"Just a short while ago, I came back from a conference in France on emergency medicine devices, and one can absolutely sense that even European countries, considered highly advanced Western nations, see interesting technologies emerging in Israel. Thanks to local knowledge and technologies, other nations in the world want to hear and learn from us. Israel has a very good reputation in the field."
Epstein adds that this impression is backed by hard data. "The number of per capita patents is one of the highest in the world. Furthermore, about two years ago, the local healthcare system was ranked fourth in the world. In other words, the quality and quantity are both extraordinary relative to the county's size."
What's next?
"One of the goals we've set is to double the current scope of exports within five years, to a total of $3.6 billion annually. Thanks to investment and dedication, and with help to every Israeli company that wants to export, we'll get there."
Story was done in cooperation with the Israel Export Institute.