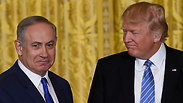 Trump and Netanyahu
Photo: AFP
The classified intelligence US President Donald Trump revealed to Russian officials was allegedly provided by Israel, US officials familiar with the issue told the New York Times and NBC News Tuesday evening.

Earlier in the day, the Times reported that the sensitive information came from an "ally in the Middle East," which even warned Americans that passing such sensitive information would cease if the information is passed on.

The White House declined to comment on whether Israel had provided the sensitive information.

During a meeting last week with Russian Foreign Minister Sergey Lavrov and Russian Ambassador to Washington Sergey Kislyak, Trump reportedly revealed information about a planned ISIS attack. According to American sources, at least some of the details the Americans had about the plot came from the Israelis.

The White House declared the allegations, first reported by the Washington Post.

US National Security Adviser Herbert Raymond McMaster said that "In the context of that discussion, what the president discussed with the foreign minister was wholly appropriate to that conversation and is consistent with the routine sharing of information between the president and any leaders with whom he's engaged."

"It is wholly appropriate for the president to share whatever information he thinks is necessary to advance the security of the American people. That's what he did," McMaster added.

President Trump himself also defended his decision by saying he had an "absolute right" to share information with Moscow.

During a press conference at the White House with Turkish President Recep Tayyip Erdogan, Trump said that his meeting with Russian Foreign Minister Lavrov was "very successful and will contribute to the war on terrorism."

The disclosure that Trump had leaked top-secret intelligence obtained by Israel to the Russians could damage the US-Israel relationship.

There is concern in Israel that the sensitive information might have been leaked or would be leaked to Iran—Russia's close ally.

Israeli sources did not confirm that Israel is the source of the information Trump shared. In a statement to the New York Times, ambassador to Washington Ron Dermer said the two countries would continue their close cooperation against terrorism.