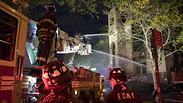 Scene of the arson
Photo: EPA
Nearly a week and a half ago, a fire that nearly destroyed the ancient "Great Beit Midrash" Synagogue in Manhattan, New York, was apparently caused by arson, officials at the New York State Police Department said Tuesday.
According to the investigation, a video containing vital details about the incident was brought to the attention of the investigators, and apparently led to the dramatic discovery.
The huge fire broke out just before 2 am Israel time. Dozens of curious people gathered nearby saw the roof of the 167-year-old building collapse shortly after the fire broke out. There were no casualties in the fire, and at first it was not clear what had caused it. The synagogue ceased operating in 2007.
Robert Bois of the New York Police Department announced that a video clip revealed during the investigation led investigators to believe that the fire was caused by deliberate arson. However, no further details were provided.
Many firefighters from New York arrived at the scene and managed to calm the fire a bit, but it still burned for about an hour after it broke out. The flames and smoke were seen up to a height of 25 stories north of 14th Street.
In addition, it was reported that tombstones were desecrated in the Jewish cemetery of Adat Yeshurun in northern Philadelphia, Pennsylvania.
Local police said an investigation had been launched after a worker at the cemetery found five gravestones that had been knocked down. The police have not yet defined the incident as an act of vandalism.