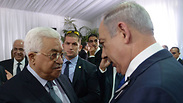 Netanyahu and Abbas. Dancing with someone who wants to trip you makes no sense
Photo: Amos Ben Gershom/GPO
Israel has done everything that it can to promote a second Arab Palestinian state, except self-destruct.

It signed the Oslo Accords and withdrew from much of Judea and Samaria, all of the major Arab population centers, and all of the Gaza Strip, removing 9,000 Jewish citizens from their homes. It promotes and funds the Palestinian Authority, despite official PA incitement against Israel and Jews, support for terrorism, and collaboration with Hamas.

It was not enough, not even to convince Palestinians to continue negotiations, or stop incitement. And, as PA leaders have made clear, it will never be enough until Israel agrees to all of its conditions. Despite this reality, the international community and even some Israeli politicians insist on "the two-state solution," as if the dangers posed by a Palestinian state do not exist.

Israel is dancing alone.

"Our strategy is 'bottom up,' assisting Palestinians to build new towns, neighborhoods and infrastructure," Israeli officials offer. "What's good for them is good for us."

At least until the music stops.

Although some thought that a peaceful settlement was possible when Israel signed the Oslo accords and agreed to Palestinian self-rule, those illusions were shattered by Arab violence and terrorism. After 24 years of failed efforts and delusional policies, and now regional chaos, the Israeli government must consider more realistic alternatives that serve its national interests.

Arguing for recognized and defensible borders is important, but begs the larger question: To whom does Judea and Samaria belong? Insisting that Israel remain in these territories primarily for security reasons forfeits the inherent rights of the nation-state of the Jewish people in the Land of Israel.

Arab proposals for a "one-state" solution that eliminates Israel is an effective Palestinian strategy. By advocating a more extreme position, the "two-state" option seems more reasonable and acceptable. Both, however, have the same objective: Israel's demise.

Israeli leaders, on the other hand, propose no alternative to a "two-state solution." At best, they insist on keeping three large settlement blocs and Jerusalem as a united city and retaining control of the Jordan Valley. Not only is this unacceptable to Arab and Palestinian leaders, it is also wildly unrealistic. No Israeli government would consider further withdrawals from Area C in Judea and Samaria.

Moreover, core issues, such as eastern Jerusalem, the Temple Mount and the Palestinian "right of return" remain for Arabs "non-negotiable."

Israel can promote a "solution" that sustains and is consistent with its own vital interests—sovereignty in Judea and Samaria, not only for strategic reasons, but because it is historically, legally and demographically part of the State of Israel.

The more Israel clings to

plans for a Palestinian state that include most of Judea and Samaria, the more it undermines its legitimate claims and weakens its diplomatic position. An assertion of sovereignty, at least in Area C, in which 450,000 Jews live, along with an estimated 40,000 Arabs, would insure Israel's vital strategic interests. Arabs living in areas under Israeli control could choose from a variety of options: Apply for Israeli citizenship, or residency; maintain their citizenship in Jordan and/or the Palestinian Authority; or resettle with compensation. Arab refugees and their descendants living under UNRWA's sponsorship should be offered full citizenship in the countries where they reside.

A Palestinian state west of the Jordan River, as late Prime Minister Yitzhak Rabin insisted, is not an option.

Dancing alone may not be as satisfying as it is with someone else, and it can be a liberating experience; but dancing with someone who wants to trip you makes no sense.

Moshe Dann is a PhD historian, writer and journalist.