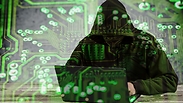 File photo
Photo: Shutterstock
'Directors without cyber insurance may be personally sued'
'Israel is completely in a league of its own,' says a world expert on cyber communications, who arrived this week in Israel for an insurance conference; the president of the insurance and finance group Harel, Gideon Hamburger, spoke about the damages that could be caused to officials due to cyber attacks.
Israel is a cyber power, according to Dr. Milan Simic, one of the most respected cyber experts in the world, following the large-scale cyber attack that took place last week and hit many countries around the world, but as far as is known—not Israel.

Dr. Simic attended a conference held in Tel Aviv this week hosting reinsurers from all over the world. It is one of the most important conferences in the global insurance industry.

This year, the conference focused on cyber issues, and on the second day, Dr. Simic, vice president and international operations manager of Air Worldwide Company, gave a lecture on the subject of cyber insurance—a relatively new area—and the risks and challenges facing insurance companies.

"Israel is completely in a league of its own, almost the world champion in terms of global investment in cyber security, so for the Israelis among you, you probably have people in the country who are more than able to help the insurance industry develop the cyber insurance product," said Dr. Simic.

Gideon Hamburger, president of Harel Insurance and Finance, told Ynet how insurance companies are preparing for the possibility of a cyber attack. "Cyber security is now topical because of what happened last weekend," he admitted. "Companies have been providing us with cyber protection consulting for a long time … If we take, for example, what happened last weekend at the hospital, then in a cyber attack, even medical records can disappear, surgical procedures are postponed and, therefore, many lawsuits can be filed against the hospitals."

Hamburger emphasized that one of the important things for all directors in public companies to do is take care of cyber insurance. "If they don't have insurance and God forbid the company faces a cyber attack, many class action suits will be filed against those directors. Directors without cyber insurance may be personally sued," he explained.

"A cyber attack can lead to losing our customers' names and portfolios, failures in collecting premiums from people or companies that have yet to pay, and of course, it would take a long time to recover all of these things, which of course is also true for banks and other organizations."

The president of Harel Insurance and Finances noted that it is difficult to estimate the economic damage caused by such a cyber attack. "As a hi-tech state we are very aware of this … We learn about this issue every day, we have heard from the reinsurers who visited Israel over the past two days about cases they have dealt with and we learn from them as well. But the interest of reinsurers in Israel is tremendous, and they come from all over the world to learn from us."