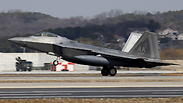 American fighter jet
Photo: Getty Images
US-led coalition jets hit a convoy of Syrian and Iranian-backed militias that were heading towards the Tanf base in southern Syria where US special forces are based, a rebel official with a Pentagon-backed rebel group said on Thursday.

Muzahem al Saloum, from the Maghawir al Thwra group, told Reuters that the jets struck after rebel forces clashed with advancing Syrian and Iranian militias that were about 27 kms away from the base along the Damascus-Baghdad highway.

"We notified the coalition that we were being attacked by the Syrian army and Iranians in this point and the coalition came and destroyed the advancing convoy," Saloum said.

Said Seif, an official with the Western-backed Free Syrian Army Shahid Ahmed Abdo rebel group, said the US intervention will help the rebels to hold their ground against any future incursions by the army and its Iranian-backed militias.

Western intelligence sources told Reuters that US and British special forces are expanding the Tanf base to oust Islamic State militants from the eastern province of Deir Zor, that straddles Iraq, from the south east of Syria.

The Damscus-Baghdad highway was a major weapons supply route for Iranian weapons into Syria until Islamic State seized territory along the Iraqi Syrian border, regional intelligence sources said.

The Syrian army had been sending reinforcements in the last few weeks to the desert region near its border with Iraq and Jordan.

They captured the remote town of Sabaa Biyar near the strategic Damascus-Baghdad highway in an attempt to prevent areas left by Islamic State hardline militants in March from falling into the hands of Western-backed moderate Free Syrian Army (FSA) rebels.

Regional intelligence sources and rebels say the ultimate goal of the Syrian army's push in the Badia was to link its forces with Iraq's Shiite paramilitary groups on the other side of the border.

The Shiite troops launched an offensive on Friday to drive the militants from the desert region near the border with Syria. Iraqi Shiite militia leaders said they hoped to link up with Syrian government forces.