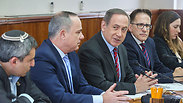 Cabinet meeting, file photo
Photo: Marc Israel Sellem
Israel to approve relief measures for Palestinians ahead of Trump visit
Measures include expedited development of industrial areas in Jalamah and Tarqumiyah and the approval of Palestinian construction in Area C; Trump's Middle East envoy, Jason Greenblatt, and Finance Minister Kahlon have been pushing for the measures.
Ahead of US President Donald Trump's visit to Israel, the security cabinet will convene on Sunday afternoon to approve a series of relief measures for the Palestinians as part of the American president's efforts to restart peace talks.

The relief measures include the expedited development of industrial areas in Jalamah and Tarqumiyah in the West Bank, two projects that have been stuck for a long time, as well as the approval of Palestinian construction in Area C, a contentious issue among some of the government's ministers.

Prime Minister Benjamin Netanyahu and Defense Minister Avigdor Lieberman support the relief measures and believe they will help improve Palestinian civilian life.

The proposed relief measures have been waiting on the government's table for approval for a long time. Netanyahu rejected the same measures during the Obama era, because at the time he saw it as a reward for violence.

But Trump's envoy to the Middle East Jason Greenblatt has been pushing to approve the relief measures, as part of his effort to promote projects that would improve the Palestinian economy and create a positive atmosphere that could facilitate the resumption of peace negotiations.

During a meeting in Brussels two weeks ago, Greenblatt initiated a meeting between Israel's Regional Cooperation Minister Tzachi Hanegbi and the Palestinian ministers of finance, energy and water, asking them to promote joint projects and discuss the lifting of restrictions.

Finance Minister Moshe Kahlon also pushed for the relief measures. Kahlon met with his Palestinian counterpart last week and the two agreed to renovate and upgrade the Allenby Bridge border crossing that connects Jordan and the West Bank and have it opened 24 hours a day.

According to recent reports, Trump is formulating a plan to restart peace talks between Israel and the Palestinians under American mediation. The talks will be limited in time and include active involvement of the US administration, but Washington will not force terms on the two sides. The Americans will also try to recruit moderate Sunni states to aid in the talks, primarily Saudi Arabia.