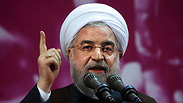 Iran accuses US of arming 'dangerous terrorists'
After US President Trump stated that Iran is funding terrorism at the Arab summit, Iran strikes back—claiming that Trump is spreading 'Iranophobia,' and is himself funding terrorism by supplying Saudi Arabia with billions of dollars worth of armaments.
Iran accused the United States on Monday of selling arms to "dangerous terrorists" in the Middle East and of spreading "Iranophobia" aimed at encouraging Arab states to purchase arms, state television reported.

"Once again, by his repetitive and baseless claims about Iran, the American president ... tried to encourage the countries of the region to purchase more arms by spreading Iranophobia," Foreign Ministry spokesman Bahram Qassemi said, a day after US President Donald Trump ended a visit to Tehran's arch-foe Saudi Arabia where arms deals worth almost $110 billion were signed.

Sending a tough message to Tehran shortly after pragmatist Hassan Rouhani was re-elected president, Trump had urged Arab and Islamic leaders to unite to defeat Islamist militants, and said Iran had for decades "fueled the fires of sectarian conflict and terrors".

Saudi Arabia and Iran compete for influence across the Middle East, respectively backing rival political or armed groups in Syria, Lebanon, Iraq and Yemen.

Iran denies Saudi accusations that it sends financial and sometimes military support to groups hostile to Riyadh.

Qassemi said Washington was "reinvigorating terrorists in the region by its hostile policies" and "should stop selling arms to dangerous terrorists".

He said the United States and its allies "should know that Iran is a democratic, stable and powerful country" and that it promoted "peace, good neighborliness, and the creation of a world opposed to violence and extremism".

Rouhani defeated a hardline rival in Friday's election with promises to be more open to the world and ease social and political limitations at home.

The Iranian president championed a nuclear deal with the United States and five other major powers in 2015 that led to the lifting of most sanctions against Iran last year, in return for curbs on its nuclear program.

Gulf Arab states expressed support for the deal, but also fears that the lifting of sanctions would enable Tehran to pursue destabilizing policies in the Middle East.