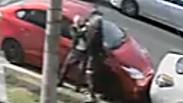 Elderly Jewish man brutally attacked in LA
In the light of day, on a main street in Los Angeles, an elderly Jew wearing a kippah was brutally attacked while returning home from morning prayers; As police hunt down the perpetrator, others in the neighborhood are convinced the victim was targeted for being Jewish.
Rabbi Perkovsky, an elderly Jew who returned from his morning prayers on Monday, was savagely beaten by an unknown attacker in broad daylight on a main street in Los Angeles. According to ABC7, which reported the incident, the police are still investigating, though residents in the area are convinced that the attack was a hate crime, targeting Perkovsky for being Jewish.
Security footage shows Perkovsky dressed in ultra-Orthodox clothing walking down the street, as another person approaches and begins to push him. The second man repeatedly punches and punches him several times even after Perkovsky falls to the ground.
The attacker was captured leaving the place slowly and almost casually, while Petrovsky lay wounded and stunned, writhing in pain, until a passerby comes to help him. On another security camera, the attacker was seen walking away and lifting his finger to the sky.
'Never hit a fly'
Police officer Aaron Shapiro told ABC7 that the neighborhood a normally very calm. "It is definitely a shock." The Los Angeles Police Department announced that Perkovsky, who was suffering from a split lip, would be fine. The LAPD added that they had brought on the violent attack was, though it was clearly not a robbery.

Shapiro added that there is currently no evidence at the moment that this the attack was a hate crime, though investigators are still are still working on the case. Since yesterday, police cars have been roaming around the neighborhood looking for the assailant.

However, the victim's acquaintances describe him as a good grandfather beloved by his community, and attribute the attack to a hate crime because of his faith. "He never hit a fly," said his neighbor, adding that he was beating for no reason "apart from being a Jew."