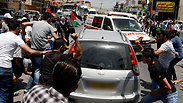 Palestinian rioters attack settler's car
Photo: Reuters
Israeli security forces arrested three Palestinians from Huwara overnight Tuesday on suspicion they were involved in the attack on a settler's car on Highway 60 last week.
The settler, who said he feared for his life, opened fire at some 200 Palestinian rioters who were pelting his car with stones and later surrounded it and attacked it.
An ambulance driver, who is suspected of intentionally blocking the settler's car and preventing him from getting away from the Palestinian mob, was arrested shortly after the incident.


A security video of the incident shows the protest the settler came upon, which was in solidarity with Palestinian security prisoners jailed in Israel.
The video shows the settler's car surrounded by people who are preventing him from moving. The Israeli car is then seen pushing forward, hitting some of the protesters blocking his path, while an ambulance drives onto the road, blocking it. It is at this point that the rioters begin kicking the car and throwing stones at it.
The video does not, however, show the shooting.
The settler told police investigators after the incident that had he not fired, he would have been lynched. "I saw death staring at me," he later said. He also claimed he did not fire directly at the rioters, but rather into the air.
Moataz Hussein Taya, 23, from the village of Bita, was critically wounded and succumbed to his wounds moments later. AP photographer Majdi Eshtiya was moderately wounded in the incident, suffering a gun shot to his arm.
Police said the investigation into the incident is still ongoing.