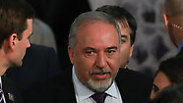 Defense Minister Avgidor Lieberman. Surprised everyone
Photo: Ohad Zwigenberg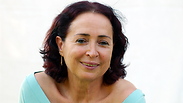 Ariela Ringel-Hoffman
Photo: Shalom Bar Tal
So who is the real Avigdor Lieberman?
Op-ed: Even after he replaced the militant and fiery statements with restraint and calm, one has to wonder if the defense minister has any surprises in store; in other words, is Defense Minister Lieberman this new, placid version, or will the 'bad boy' suddenly emerge again?
He entered the Defense Ministry exactly one year ago. That's also exactly what he said would happen before the last elections, before choosing not to join Prime Minister Benjamin Netanyahu's new coalition and not to be part of his future government, which he defined—without bothering to moderate his comments—as "the embodiment of opportunism."

After the elections, he sat in the opposition, from where he issued insights not only about the government in general but also about its individual members: He called the prime minister a liar, a fraud and a crook, and treated former Defense Minister Moshe Ya'alon with undisguised contempt. Ya'alon was "an excellent soldier," Avigdor Lieberman said without hesitating about the man who was once the IDF chief of staff. As defense minister, Lieberman clarified, no one "takes him seriously."

In April 2016, only a month before replacing Ya'alon in the spacious bureau on the 14th floor at the Kirya base in Tel Aviv, he further explained why he wasn't satisfied with his performance. "If I were defense minister," he said, "I would give Mr. Ismail Haniyeh 48 hours: Either you return the bodies or you're dead."

And before we could say Jack Robinson, if I may use the famous cliché, Knesset Member Lieberman raised his hand, swore allegiance to the State of Israel and became the Netanyahu government's defense minister. And the only thing he brought along to the bureau, after bidding farewell to most of his fiery statements, was the public support he had expressed for Elor Azaria, the soldier who was convicted of killing a wounded Palestinian terrorist in Hebron. Initially, Lieberman had said that Azaria should be released—despite the harsh accusations. In his favor, it should be noted that he bade farewell to this statement too after the court handed down its ruling, when he said that the judges' decision must be respected.

His arrival at the Defense Ministry was accompanied by quite a big shock and quite a few concerns, to put it mildly. Like a bull in a china shop, a senior officer said shortly after the decision, and there were those in the media who likened his appointment as defense minister to appointing Al Capone as the American attorney general. But Avigdor Lieberman, like only Avigdor Lieberman knows how to do, surprised everyone. A year after the appointment, not only is Ismail Haniyeh alive and kicking in Gaza, but many of Lieberman's militant declarations have been dissolved and washed away.

A little over a month after he took office, Turkish aid Ship Lady Leyla docked quietly and safely in Ashdod. It was nothing like the Marmara affair. Thousands of tons of humanitarian equipment were unloaded from the ship and transferred to the Gaza Strip.

The defense budget was finalized by Lieberman vis-à-vis Finance Minister Moshe Kahlon, skipping the regular ritual of discussing funds for gym shoes on the one hand, and shutting down units on the other hand. The decision to extend Chief of Staff Gabi Eisenkot's term to four years was issued quietly without humiliating him, like his predecessors had done. And he did it in January 2017, a month before Eisenkot completed his first two years in office, and just before the chief of staff underwent surgery for the removal of a localized cancer growth. He also approved appointments—starting with Major-General Aviv Kochavi's appointment as deputy chief of staff—hardly intervening with the chief of staff's recommendations.

He ended the affair involving Rabbi Yigal Levinstein of the Bnei David pre-military academy in Eli in an instant, doing what no one before him before him had done, when he dismissed the rabbi after it was revealed that he had told army recruits that religious girls who join the army "go in Jewish and won't be Jewish at the end of their service."

Lieberman has also shown an interest, according to sources in his office, in relatively marginal social issues—discharged soldiers and the enlistment of Haredim and Christians. In addition, he has maintained a relative calm in Judea and Samaria and in the strip, contrary to his impassioned comments in the past, which serves as another live example of the famous saying that what you see from this side looks different from the other side, and vice versa.

In between, however, behind closed doors, in the two Kirya towers, one has to wonder, or maybe even feel slightly anxious, if there are any Lieberman surprises in store. In other words, is Defense Minister Lieberman the new version, or will the "bad boy" suddenly emerge again?