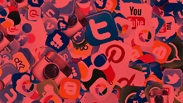 File photo
Photo: Shutterstock
The terrorist attacks in Britain in recent months, in London this week and in March, in Manchester, put the Conservative Party and its head, Theresa May, in double jeopardy: on the one hand, concretely dealing with the devastating consequences of the three bloody attacks and, on the other, strengthening the public's trust in the government, a moment before the elections.

As details of the combined attack in London on the night between Saturday and Sunday came to light, during which seven were killed and dozens were injured, the familiar rhetoric of accusing technological platforms became more acute; a politically convenient rhetoric that reflects the pressure on May and the British authorities, but is not real.

According to preliminary reports in Britain, the three terrorists who carried out the attack were recruited to ISIS by watching YouTube videos. This information was enough to bring forth false statements by May and Amber Rudd, Home Secretary, about restrictions and censorship on social networks, a mere day after the attack.

"We must work together with allies, democratic governments, to reach international agreements and to regulate cyberspace, so that we can prevent the spread of extremists and terrorist networks," said May.

This was followed by a more deliberate attack by Rudd, which pointed a finger at platforms that enable end-to-end encryption, whereby only the parties to the conversation have access to the content. This security is used in messaging programs such as WhatsApp and Telegram, and even Facebook Messenger that allows this type of security, but not by default.

Facebook has stepped up to the plate, and even before the proverbial accusing finger could be raised in their direction, they released a statement according to which Facebook is doing whatever necessary to be a "hostile environment for terrorist organizations."

This is certainly not the first time that a terrorist attack has led to sweeping accusations against "technology." But such rhetoric is superficial and blindsided.

The second option, which is more reasonable, but less politically convenient, is to understand that, like everything, the activity that takes place in cyberspaces is done by people. We are the ones who design the technology, not the "it" that produces terrorists, and terrorist cells.

The problem of terrorism is a human calamity that must be dealt with through concrete tools, and not by spreading clichéd but dangerous slogans that seek to erode another slice of our basic right to privacy.