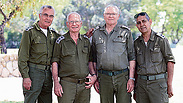 The four grandfathers
Photo: Tomerico
Shlomo Arbeli, Moshe Cohen, Miki Zayfa and Neri Harali are all grandfathers, and they all fought in the Six-Day War. The youngest is 70 years old, and yet they all insist on doing reserve IDF duty to this day.

Col. (res.) Shlomo Arbeli, 80, from Ashkelon, who donned his uniform for the first time 62 years ago, serves as a lecturer in the Education and Youth Corps, where he instills heroic combat history in the younger generation.

In the Six-Day War, Arbeli was the commander of the 7th Brigade's reconnaissance unit. He related that during the war, an Egyptian soldier fired at his head from a range of about half a meter. However, he was only slightly wounded.

"He really missed by a millimeter. I was taken to the hospital and returned quickly to the battlefield with a bandage. I am enthralled with the army and the state. As long as I am able to contribute, I will continue to with love. I lecture to young people and feel how the Zionist spirit enters them. In my opinion, the younger generation doesn't have enough Zionism."

Lt. Col. (res.) Moshe Cohen, 70, from Tiberias does his reserve duty in the logistics of the Northern Command. He explained: "Our goal is to contribute to the system. It's important to us that the young people be inspired by us. It is a very good feeling to feel that we're helping. There is great satisfaction in this."

Col. (res.) Dr. Miki Zayfa, 72, from Ra'anana serves as the commander of the Human Services Unit at the Chief Medical Officer Headquarters. In the Six-Day War, he was a combat medic in the infantry, and he treated the wounded. "They suffered from terrible pain, but did not utter a word. I was in shock," he said.

During the Yom Kippur War, he was captured by Egypt. "I'm not embarrassed to say: I'm a Zionist, I love the country and I do not understand why regular service is called compulsory service. It's an honor to serve, and learning lessons is essential for the young generation to learn from it."

Lt. Col. (res.) Neri Harali, 70, of Ein Gedi serves as a researcher in the field of locating missing persons. He served in the Nahal Brigade during the Six-Day War and was wounded near Latrun after being shot from a distance of two meters by an Egyptian soldier.

"I fired back," he recalled. "One bullet hit me in the shoulder and went out through my back. After two weeks in the hospital, I went back to the guys. As long as they don't expel us from the army, I continue to contribute."