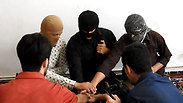 The Islamic State's news agency Amaq published Friday a video of the five perpetrators of the combined attack in Tehran that saw 17 people killed and 43 wounded.

In the video, which was translated to Arabic from Persian, one of the terrorists said they were the first "battalion" of the organization that had been established in Iran. He added they hope that with the help of God, they will not be the last.

"This is a message from your brothers, from the people of the Jihad. We are urging Muslims to undermine the security of the heretical Shiites in Iran. Know that the necks of the heretical Shiites in Iran are not far from the swords of the soldiers of the Islamic State, Allah willing," he said.

Later, the terrorist asked other Muslims to join them, saying that "the fire that was set off will not be extinguished" and calling them to "shed (infidels') blood as they shed the blood of Muslims everywhere."

"Allah has commanded us to fight the infidels, as they fight us," he said. "Their evil has reached Mosul, Syria, Yemen, and Libya. They fight everywhere against the sons of Islam. They advocate the Jews, and they admit so themselves."

At the end of his speech, the terrorist delivered a threat to Saudi Arabia, saying "we tell the royal family in Saudi Arabia, know that after Iran, your turn will come. Know that we are soldiers of the Islamic State fighting only for the sake of God. We are not anyone's agents. We listen and obey God and His messenger. We are fighting for this religion, not for Iran or for the Arab Peninsula.

"We will fight the whole world until the Word of God prevails."

The Islamic State's weekly newsletter Al-Naba published Thursday a picture of the five terrorists who carried out the Tehran attacks the day before, taken moments before the attacks.

A security official speaking to the newsletter boasted that the organization had killed thousands of Iranian people on the battlefields in Syria and Iraq.

"It was necessary for the streets of Tehran to become an open battlefield for the soldiers of the Islamic State, and now Allah, may he be praised, allowed us to take the battle to their homefront, after the infidels became accustomed to wage their war on someone else's land," he said.

Finally, the security source called for an attack on the Shiite government in Iran and its institutions, as well as on all Shiites everywhere.

On Wednesday, two terrorist attacks were carried out simultaneously by seven terrorists belonging to the Islamic State at the Iranian Parliament building and the Mausoleum of Ruhollah Khomeini, leaving 17 civilians dead and 43 wounded. The shootings were the first terrorist attacks in Tehran in more than a decade, and the first major terror attack in the country since 2010.