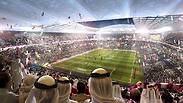 Sports in Qatar
Photo: AFP
Looks like the cleat is on the other foot: Arab countries initiate sport boycott of Qatar
With the diplomatic row between Arab countries and Qatar in full swing, international sport has now become another venue for the parties to fight in; Arab sporting boycotts against Qatar damage national prestige and can cause the emirate millions in revenue.
Israelis has been accustomed to Arab and Muslim countries refusing to participate in sporting events against them in order to avoid "normalization" with the Jewish state. However, it would appear now that Qatar, the wealthy Gulf emirate being boycotted by other Arab states, will need to get used to a similar arrangement.

The boycott started by Saudi Arabia, the United Arab Emirates, Egypt, Bahrain and later joined by other countries is now beginning to manifest in the world of sport. Just last week, Saudi football club Al-Ahli announced that it was cancelling a contract with the national airline of Qatar, which was a sponsor of the club.

The spat has even boiled over into FIFA, where just last week the UAE requested that FIFA replace the Qatari officiating crew in a World Cup qualifying game against Thailand. FIFA obliged the request and replaced the crew with a Malaysian-Singapore crew.

In what seems like a trivial matter, a sport boycott could cause damage to Qatar.

The tiny Gulf nation has used sports in recent years as a means to advance national prestige on the international stage. In addition to hosting the upcoming World Cup (the first Arab country to ever host the event), Qatar also hosted the 2015 World Handball Championships and in 2019, Qatar will also host the World Championships in Athletics.

However, Qatar's achievements in sports only contribute to the growing hostility towards it.

In the Arab countries, it is always mentioned that Qatar has no sporting culture at all—most of its residents are not Qataris, and in order to establish successful national teams, it "adopts" athletes from other countries.

When Qatar hosted the World Handball Championships, Qatar was mocked on an Egyptian sports channel who said the Qatari team looked like the UN team.

Sporting boycotts not only harm Qatari national prestige, but also have an economic impact. By other Arab countries holding competitive international sporting events, commercial revenues in Qatar earned from hotels, stadiums, ticket sales, athletic conferences, camps, and other venues are harmed.

While it has not yet happened, many in Qatar are nervous that the boycott could soon focus on attempting to have Qatar stripped of the honor of hosting the 2022 World Cup due to a storm of controversy regarding bribery and corruption. However, that fight is still on the horizon.