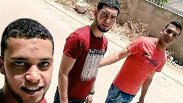 Israel arrests mother of one of Hadas Malka's killers, nabs second suspect
IDF troops take in mother of one of three terrorists responsible for a deadly combined shooting and stabbing attack on suspicion of incitement, supporting a terror organization and glorifying martyrs; second suspect believed to have driven terrorists to their target knowing of their intentions.
IDF soldiers and border police arrested the mother early Wednesday morning of one of the three terrorists who carried out a deadly combined stabbing and shooting attack at the Damascus Gate in Jerusalem's Old City last Friday.
The mother was arrested in the village of Deir Abu Mash'al on suspicion of incitement, supporting a terror group and because of recent statements in which she is said to have glorified martyrs and called for attacking Jews. During the arrest, security forces also seized inciting material, flags and posters.
Scene of attack
The attack claimed the life of 23-year-old MSG. Hadas Malka and left five others wounded as the three went on the rampage using semi-automatic weapons and knives before being shot and killed by security forces.
In addition to one of the terrorist's mother, police have arrested a resident from the Arab neighborhood of Isawiya on suspicion that he drove the terrorists to their target last Friday in full knowledge of their plans.
The investigation into the attack was handed over to the authority of the Jerusalem District Police which was assigned responsibility for gathering evidence and holding anyone linked with the attack accountable. The driver and the mother are expected to be brought before a judge who will be asked to issue a warrant for their extended arrest.