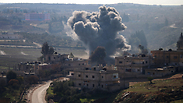 Report: US, Russia, Jordan agree on safe zone in Syria's Daraa
According to report in Saudi-owned Asharq Al-Awsat, Hezbollah and Iranian-backed forces will not be allowed into safe zone, which will stretch 30 kilometers from the Jordan border; humanitarian aid will be allowed in and refugees who fled to Jordan will return.
The United States, Russia and Jordan have reportedly reached an agreement on the creation of a safe zone in and around the city of Daraa in Syria, where Hezbollah and Iranian-backed militias will not be allowed to enter, according to the Saudi-owned Asharq Al-Awsat newspaper.

The area, where only Syrian forces will be allowed, will stretch for 30 kilometers from the Jordan border.

Asharq Al-Awsat quoted senior officials who listed three principles agreed upon in the memorandum of understanding between the three countries: no presence of non-Syrian forces inside the safe zone, a ceasefire between the Syrian regime and the rebel factions, bringing in humanitarian aid while returning refugees who fled to Jordan back to the area.

Meanwhile, the American administration is expecting the fall of ISIS' stronghold in the city of Raqqa in Syria, estimating the next step would be a direct conflict against Syrian President Bashar Assad and his Iranian patrons.

According to a report in the Washington Post, White House officials are pressuring the Pentagon to act in light of the advance of Assad and Iranian forces toward the desert in east Syrian. The administration is worried regime forces will get in the way of US-led coalition efforts in the area to cut ISIS' territorial continuity along the Euphrates River going into Iraq.