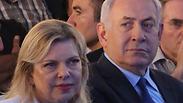 PM and Sara Netanyahu
Photo: Motti Kimchi
Netanyahu to beef up security at Damascus Gate
In light of repeated attacks, including one which recently claimed the life of Border Police officer Hadas Malka, prime minister announces changes in management of the site to be implemented 'very soon'; 'It has become a symbol of terrorism and the fight against terrorism.'
Prime Minister Benjamin Netanyahu announced Thursday evening that he intends to beef up security arrangements and implement other changes at the Damascus Gate in the Old City—a site which has become a flashpoint of repeated terror attacks.

Speaking during a groundbreaking ceremony for a new park in Bat Yam which is to be named after his brother Yoni Netanyahu—who was killed during Israel's famous rescue operation in Entebbe—the Israeli premier said that he had already met with Public Security Minister Gilad Erdan and Police Commissioner Roni Alsheikh to bring the changes to fruition.

"I asked for changes at the Damascus Gate. They have prepared a plan to augment security and restrict the freedom of action by potential terrorists. I approved the this plan and it will be implemented extremely soon," Netanyahu promised.

Explaining his decision, Netanyahu turned to the latest deadly attack that was carried out by three terrorists at the site which last Friday claimed the life of the border police officer Hadas Malka, 23.

"Hadas Malka said a wonderful thing. During a visit I made with (my wife) Sara at the family home, they told us that she had told her officers: 'Understand that if we are not here, (none of us) will be here.' We are protecting the capital of Israel, we are protecting the existence of Israel with our wonderful young men and women," the prime minister said.

"The gate has become a gathering for murderers time and again, for attackers time and again. It has become a symbol of terrorism and has also become a symbol for anti-terrorism, of the fight against terrorism. That is why I asked for a plan and changes."

Hadas Malka was killed during an attack involving three terrorists who went on the rampage with guns and knives. In addition, the attack left five others wounded. All three attackers were shot and killed by security forces at the scene.

In a similar attack in 2016, border guard Hadar Cohen, 19, was also murdered by terrorists at the same site.