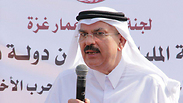 The head of the Qatari Committee for Reconstruction of Gaza, Mohammed El Emadi, arrived in the Palestinian territories on Thursday evening and is expected to meet with officials from the Palestinian Authority and the Gaza Strip as part of the ongoing efforts to rehabilitate Gaza.

Qatar confirmed El Emadi will arrive in the Gaza Strip Friday for a trip expected to last several days while he visits projects being financed by Qatar.

This is El Emadi's first visit to the area since the diplomatic crisis between Qatar and Saudi Arabia, Egypt, Bahrain and the United Arab Emirates.

Progress with Qatar's rehabilitation projects has been slow, but it remains among the only two countries, alongside Turkey, keeping the Gazans' head above water, thus helping Hamas maintain its rule.

While the crisis in the Gulf is worsening, Qatar is acutely aware that Egypt—one of the primary sponsors of the Arab boycott against it—is growing closer to Hamas. According to reports from Arab media, leadership in Cairo is making certain that diesel fuel arrives in Gaza in an attempt to ease the electricity crisis in the strip.

Hamas leader Ismail Haniyeh responded to reports of warming ties with Egypt, saying, "Egyptian officials have implemented a series of measures and policies to aid the Gaza Strip. The construction at the Rafah Border Crossing continues with the goal of reopening as soon as possible. These understandings will have a positive effect on the citizens of the strip."