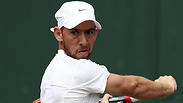 What was shaping up to be a solid run was cut short when Dudi Sela retired from his third round match against 13th seeded Grigor Dimitrov Saturday at Wimbledon.

The 32-year-old, unseeded Israeli appeared to be battling against a groin injury and even had to seek the assistance of a trainer at the end of the first set which Sela lost, 1-6.

Dimitrov, ranked 11th in the world, took control of the match early and built momentum with punishing ground strokes and breaking Sela's serve. At one point in the second set, Dimitrov had successful won nine games consecutively before Sela answered by winning his lone game of the second set before going down 1-6.

There was a brief glimmer of hope when Sela narrowed the gap to 1-3, even managing to hit a slick between-the-legs shot. However, Sela squandered his chance for a breakpoint at 1-3 allowing Dimitrov to widen the margin to 4-1.

Following the second set Sela informed both the chair umpire and his opponent that he was retiring due to injury. Dimitrov warmly embraced Sela, who had won his first two matches in five sets, including an upset victory over America's John Isner.

Dimitrov will advance to the fourth round where he will face either Roger Federer or Mischa Zverev.