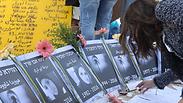 Memorial to victims of violence
39 people, including six women, have been killed since the beginning of 2017. In addition, there were almost 400 shootings and according to police reports, there are hundreds of thousands of illegal weapons in Arab communities, which constitute 80% of all illegal weapons in Israel.

One of those victims of violence is Nadia Baransi, 55, a resident of Tayibe who was struck by an apparent stray bullet.

"There is no stray bullet," said her brother Abd al-Mu'az Abu Ras. "This is a murderer's bullet. Anyone who uses guns can hurt people, and the results will always be severe. My sister was a victim of gunfire. The current situation is a threat to all our lives. This is a time to take the matter seriously and fight the phenomenon of violence correctly and professionally."

Additional victims are Fadi Sarsur, 35, and Mohammed Amer, 36, residents of Kafr Qasem, who were murdered in June. A family member of Fadi said, "We almost never feel secure, and unfortunately, violence and crime are spreading in Arab society and there is no one to stop it."

A survey covering the months of May and June published by the Abraham Fund Initiatives discovered that 59% of respondents in the Arab public have no trust in the police.

However, despite a low feeling of trust in the police, data shows that Arab respondents are committed to finding a solution. Arab citizens are supportive in egalitarian and fair policing in their localities and see the partnership with the police as a key to eradicating the phenomenon.

For example, 70% of Arab citizens are willing to take part in the struggle against violence, compared to only 39% in Jewish society. 79% of Arab citizens are willing to report to the police about an offense or a crime case they have witnessed. 77% of the Arab public supports the establishment of police stations in Arab communities.

However, at present, 54% of Arab citizens believe that their community has a problem with violence (compared to 4% of Jewish citizens) and 32% of Arab citizens do not feel safe in their community (compared to 12% of Jews).

Despite high rates of insecurity however, only 4% of Arab citizens reported being victims of crime or violence in the last three years. A rate very similar to that of Jewish society, which stands at 3.3%.

The Abraham Fund Initiatives issued a statement on the survey results, saying, "This is an opportune moment to develop joint activity with Arab society and with social, religious and political leaders at the national and local level."

The organization proposed a multi-year plan to eradicate crime in the Arab communities by "defining the problem as a national mission and allocate the necessary resources at the various levels: human capital, infrastructure, land allocation, advanced technologies, education, public relations and more."

Police seemingly agree and two weeks ago, launched a billboard campaign under the heading "feel confident" in order to encourage recruits to join the police and to open stations inside the Arab communities.

"The campaign is part of a series of actions by the police and the Ministry of Public Security, which are intended to strengthen ties with Arab society in Israel," said police in a statement.

MK Yousef Jabareen criticized the campaign however, saying, "While the police demolish houses in Arab society, continue to act violently against Arab citizens, and security forces shoot and kill civilians like Umm al-Hiran and Kafr Qassem, the police are launching this campaign.

"This is a farce and the step is doomed to failure, since the real face of the police is familiar to Arab society and a thousand billboards will not change its hostile image. The police's test will be to change its policy toward Arab citizens and to change their attitude toward them as enemies."