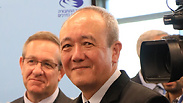 Major-General (res.) Eliezer 'Chiney' Marom. No surprise
Photo: Shaul Golan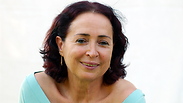 Ariela Ringel Hoffman
Photo: Shalom Bar Tal
Assuming there is a large and bad fire burning under the heavy smoke screen surrounding the submarine affair, assuming—with a certain amount of confidence—that this is much more than a storm in a teacup, and in light of the fact that the nation's finest sons—a retired major-general, a retired brigadier-general, a senior officer and several other officers whose names have yet to be revealed—are reportedly involved in this affair, let every Jewish mother know who are the people sitting at the centers of the State of Israel's most security-sensitive junctions, junctions that are sensitive to its sons' fate.

Don't be deceived by the fact that the lawyers representing the suspects have expressed full confidence in their integrity and decency. It's the lawyers' job to say these things—pardon me, to recite them like a sort of mantra: "My client, bla bla bla, is happy the investigation is now out in the open, bla bla bla, and he's being given the chance to prove his innocence." He's really happy. Each one of them is happy and they're all happy together, and we're the only ones who are becoming sadder every day.

We're talking about suspicions of bribery, fraud, breach of trust and what not. The Germans, organized as usual, called it "useful expenses." Those were the exact words of an official document issued by the Thyssenkrupp company. And this is what it said about Israel and India: "The activity in developing markets makes the payment of useful expenses necessary." In other words, it's not a regular necessity in the company's international deals—but only when it comes to two countries: Israel and India. Good company, a great honor. Not to mention the fact that Israel, one of the world's biggest buyers of weapons, was defined there as a "developing market," which begs the following question, of course: Developing where? On its way into deep water in an effort to break new records of deterioration, just like the Sea of Galilee's red line, which drops further and further in each measurement. In a moment, it will be lower than the Dead Sea.

It's embarrassing and shameful. Is it possible that these were all good, worthy and loyal people with a sense of mission, who turned into what they've become a moment after removing their uniform, allegedly trading in the state's security to pocket a few more millions, or tens of millions?

Former top-ranking Navy officers say they weren't surprised when the names began emerging in the media months ago. Major-General (res.) Eliezer "Chiney" Marom, they say, was indeed an outstanding professional in his field, but there was a reason the Navy commander who preceded him, Major-General (res.) Yedidya Yaari, went to so much trouble to try to thwart his appointment, an appointment which was eventually carried out after Major-General David Ben-Besht's early retirement.

The fact that later on, as Navy commander, Marom was spotted partying at a strip club but in plain clothes, didn't surprise anyone either. They were surprised neither the fact that he was there, nor by the fact that he provided a twisted series of excuses, such as "I was invited to a birthday party," "I left after 10 minutes," etc.—especially as the club owners told the media that Marom had been a regular visitor.

And the same applies to the others. There are no surprises, I was told by a very senior officer. People don't change their spots, it's only the opportunities that change. And so the good fellows from the sea went along, and in the "bring a friend" method, they allegedly concocted dish which is unusual even in the Israeli reality. It's unusual not just in the volume of the useful expenses, allegedly of course, but also in the security-related meaning of this affair, especially in terms of the ships that were supposed to provide protection for the gas fields off Israel's shores. Sort of white elephants that could have simply docked in front of Tel Aviv's Atarim Square, for the glory of the State of Israel.

And now what? Now we just have to wait and see what will happen, what interpretation will the lawyers provide for the useful expenses on their client's behalf, what else will be uncovered once the curtain is raised, and what will the system do to assure us once again that a moment after the generals—not all or most of them, of course, just few of them—slip into plain clothes, we won't have to find out in which hands we put our future and our children's future.