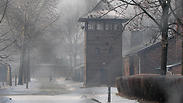 Holocaust survivors have a significantly higher chance of being diagnosed with cancer than other people, statistics from a new Israeli study published this week illustrate.

The research, which analysed data from the last 45 years, was carried out by a research team led by Professor Siegal Sadetzki at the Gertner Institute in the Chaim Sheba Medical Center and the results were published in the prestigious 'Cancer' journal.

153,000 people who had survived World War II in Europe were assessed for the analysis, along with those who were incarcerated in concentration camps and death camps and those who lived in countries once occupied by the Nazis.

According to the results, 22% of the Holocaust survivors were diagnosed with various types of cancer, compared with 16% of the rest of the population. Moreover, the rate of lung cancer among the survivors was 36% higher than the rest of the population.

It could also be discerned from the analisis that survivors had a 12% higher chance of suffering colon and rectal cancer than people who did not pass through the Nazi killing machine.

Professor Sadetzki and her fellow researchers Professor Laurence S. Freedman and Angela Chetrit determined, based on the findings, that the increased cancer morbidity rates among Holocaust survivors can be attributed to the traumatic and extreme conditions they were forced to endure when Europe fell under the yoke of Nazi rule.

These included extreme circumstances included hunger, physical and mental abuse, crowded living conditions, lack of sanitation, infectious diseases and mental stress in the death camps and a state of permanent fear among those who lived in countries conquered and ruled by Hitler's armies.

The study does not address the question of why lung, colon and rectal cancer are the most common forms of the disease among survivors.

Notably, the researchers did deduce from the data that women who experienced the death camps and concentration camps were no more prone to breast or ovarian cancer than other women.

The researchers also noted that the disease only developed years after their traumatic experiences among many of the survivors.

"We know that also among people who smoke at a young age, in many cases the cancer can begin at a later age. This can also be said for people who were exposed to radiation—the cancer manifests itself in the advanced stages of life," said Professor Sadetzki.

"Exposing people to harsh conditions happened during the Second World War and the treatment for Holocaust survivors who experienced it continues to this day."

Finally, the hypothesis is further underpinned when considering the fact that people who have experienced horrors in their lives similar to those who suffered in the Holocaust—prisoners of forced labor camps, for instance—have a higher chance of being diagnosed with cancer.