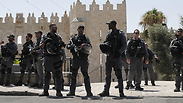 Security forces at the Temple Mount
Photo: AFP
The terror attack on Friday morning calls for special attention and treatment because it happened on the Temple Mount. This fact has many implications that need to be addressed immediately in order to prevent greater escalation.

First, we need to find out quickly whether the terrorists came armed from inside the Temple Mount, and if they were in the compound with weapons during the night.


If this is the case, Israel must immediately file a complaint with the Jordanian government, which is responsible for safeguarding and protecting the Islamic and Christian holy sites in Jerusalem, including the Temple Mount, and is the one paying the salaries of the Waqf guards acting on its behalf.

Second, the aforementioned Waqf guards must be questioned and banned from the Temple Mount until measures are taken to preserve the security and sanctity of the site.

Third, the circumstances behind the incident must be made public quickly to prevent an "alternative truth" that would incite the local populace.

Final moments of the attack

Al Jazeera has

already reported

that "At least three Palestinians killed in shooting in Jerusalem's Old City," and this narrative will resonate not only in the Arab world but in the Muslim world and the West if Israel does not take quick action to explain the true circumstances—the terrorists were the ones who violated the sanctity of the place and not the other way around.

In the 1970s, when an Australian citizen named Denis Michael Rohan set fire to the pulpit of the al-Aqsa Mosque, extremely violent and dangerous riots broke out in the territories, and were subdued only with great efforts. Shooting dead the terrorists who fled to the Temple Mount may spark similar riots.

It is reasonable to assume this is a so-called "local cell." The question is who provided them with the money to buy their firearms. It is still necessary to find out where they trained, and most importantly—when and how they smuggled the weapons into the complex.

Additionally, the fact the terrorists are Israeli Arab citizens from Umm al-Fahm could indicate their possible collaborators, and what was the background for the attack.

Finally, there is a police station on the Temple Mount with about a hundred police officers who are tasked with maintaining the order and security in the area. How did the terrorists slip through the checkpoints and gates? Apparently there is a security breach that needs to be closed shut.

These are the immediate questions needed to be asked and the lessons needed to be learned from the attack. The rest will come following a thorough and meticulous investigation by the Shin Bet, the IDF and the Israel Police.

We must also remember such attacks have many imitators, and therefore the precautionary measures must be increased on the Temple Mount to prevent another incident. The closure imposed on the Temple Mount in the meantime is necessary to prevent further religious incitement.