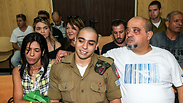 Azaria with his parents
Photo: Yariv Katz
Elor Azaria, who was sentenced to 18 months in prison for the fatal shooting of a wounded Palestinian attacker, will be placed under house arrest ahead of his appeal on July 30.

The military court in the Kirya ruled that Azaria would remain in house arrest at his parents' home in Ramla and would be allowed to leave only for prayers at a nearby synagogue only, accompanied by his family.

Azaria was supposed to be released from the IDF on Thursday, and as a result cannot continue to be held in open detention at his military base.

Sgt. Elor Azaria was captured on video fatally shooting a Palestinian who was wounded after stabbing a soldier in the West Bank last year. The case divided Israel, where military service is compulsory.

Israel's top generals pushed for prosecution, saying Azaria violated the military's code of ethics, while large segments of the public, including politicians on Israel's nationalist right, sided with the soldier.

He has been in custody since he was sentenced in February. The military said Monday he would be placed under house arrest later this week.