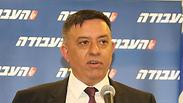 Avi Gabbay
Photo: Motti Kimchi
Zionist Union leader Avi Gabbay and Yesh Atid leader Yair Lapid both launched attacks on Prime Minister Benjamin Netanyahu Monday during their respective party meetings over the ongoing probe into his possible involvement in a scandal surrounding the acquisition of submarines and his conduct vis-a-vis the telecommunications giant Bezeq during his tenure as minister of communications.

The two leaders quoted statements once made by Netanyahu about former prime minister Ehud Olmert when he was being investigated during his premiership for corruption, which ultimately led to his imprisonment.

"A prime minister who is neck-deep in investigations cannot make fateful decisions," they quoted Netanyahu as saying, arguing that he should now apply the standards which he himself propounded to himself.

In that vein, Gabbay called on the prime minister to dismantle the government, as he himself once demanded of Olmert in similar circumstances.

"The public sees the facts about which there can be no dispute—the giving of hundreds of thousands of shekels and deep involvement of his cousin in transactions of ships and submarines while he was conducting coalition negotiations," Gabbay said during his first party faction meeting as head of the Zionist Union since being elected in the primaries last week.

"Last night we saw the head of the Defense Ministry's procurement department describe how to trade with confidence, and a few days ago we saw the former defense minister Moshe Ya'alon describe the link that has been established between our defense and business interests," Gabbay continued in his tirade against the prime minister.

"The legal system is doing its job and it is going at its own pace, but there are times when public leaders cannot hide behind legal procedures," he continued. "Those who voted for Bennett, Deri and Kahlon cannot understand the public silence and expect them to say to Netanyahu exactly what he said during Ehud Olmert's tenure. They should pluck up the courage to dismantle the government. I call on the heads of the coalition parties to tell Netanyahu that the red line is here."

Speaking at his own faction meeting, Lapid also addressed the investigations involving the prime minister. "We don't play with security. Security is the holy of holies. If the prime minister approved the submarine deal for the Germans with Egypt, the Israeli public deserves an explanation," he insisted.

"The prime minister claims time and again, in response to all the charges and suspicions, from the submarines to Bezeq, that he didn't know anything, that he had no idea what was happening around him. I have no idea what the people closest to him do, but even if we accept this, if you don't know what is happening in your bureau, how exactly do you manage state matters?" he asked.

Similar to Gabbay, Lapid also drew attention to the pressure Netanyahu put on Olmert when he found himself embroiled in a string of corruption charges.

"I want to quote what Netanyahu himself said about Ehud Olmert while he was being investigated for far fewer offences," he said, quoting the same statements.