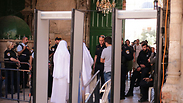 A magnetometer stationed at the Temple Mount
Photo: Mati Amar/TPS
Finding a compromise in the Temple Mount crisis
Analysis: What is needed now is a cooperation agreement between several countries and entities, including Jordan and Waqf guards, which does not explicitly mention Israel's sovereignty over Temple Mount but recognizes its right and obligation to maintain order, security and freedom of worship there. Done right, this will also preserve Israel's national honor.
"National honor" and "deterrence" are not empty words. In some cases, in order to achieve or preserve them, we must fight and even be prepared to give our lives for them. But the magnetometers placed on the Temple Mount, which may still be placed in other gates of the Temple Mount, do not fall into a category worthy of such a sacrifice.

It is Israel's right and duty to maintain security at the Temple Mount, and by virtue of this right it is entitled to place the magnetometers. However, it must also be kept in mind that their deployment is not a demonstration of sovereignty, but a means used to provide security. And so, if using the magnetometers will cause the deaths of Palestinians and Israelis in the resulting riots, other measures should be used instead, and a compromise should be considered, in an effort to prevent serious harm to Israel's national dignity and as an act of deterrence.



It should also be noted that local disturbances between Palestinians and Muslim citizens of Israel and the Israeli security forces could escalate beyond Israel's borders. Riots that escalate and devolve into armed assaults may ignite a more violence in Jordan and the Palestinian Authority, as well as in other countries such as Saudi Arabia and Egypt, with whom Israel have friendly relations and varying levels of cooperation.

Clashes between Israeli security forces and Jerusalem Palestinians or Israeli Arabs have turned deadly in the past: these include the battles over the Western Wall tunnels;the second intifada, which among other reasons broke out due to Ariel Sharon's decision to visit the Temple Mount; and statements made by politicians eager to declare the immediate need to build the Third Temple at the Temple Mount, where the Muslim Al-Aqsa mosque currently stands.

In other words, there is no doubt that if Israel continues to insist on its current position, Friday's Muslim prayers will likely be followed by another large-scale violent and ultimately fatal escalation.

Given this possibility, a major effort must be made to find a compromise formula that will prevent violent outbursts during and after Friday's prayers, based mainly on diplomacy and creative thinking. Such a compromise should first include an announcement by the leaders of Jordan, Saudi Arabia and possibly other Arab leaders, as well as the US, which unequivocally condemns the terrorist attack perpetrated by Muslims at the Temple Mount that took place last Friday.

Second, the declaration must be include a recognition by Israel's political right of the duty of the State of Israel to maintain security on the Temple Mount and freedom of religious worship for members of various religions. Israel will also be a partner to this declaration and will state that in light of the request of the Arab states and the United States (and possibly Russia and the EU), it is suspending its security measures on the Temple Mount and is ready to enter into immediate negotiations with Jordan and the Waqf regarding other security measures.

And while Israel will publicly declare it will be suspending additional security measures, there should also be a behind-the-scenes understanding between Israel, Jordan, the Waqf and perhaps the Saudis regarding security measures to be taken at the Temple Mount. There must also be an agreement between Israel and Jordan, and unlike last time, this time Jordan will not be deterred by the Waqf vote on setting up security cameras on site.

It also makes sense that such an agreement should include the understanding that the Temple Mount's security measures should in principle reflect the security measures taken in other Muslim holy sites, such as in Mecca. The mere fact that these measures have already been taken to ensure the safety of Muslim worshipers and holy sites in Islam gives them legitimacy. As stated, this declaration, while not explicitly mentioning Israel's sovereignty over the Temple Mount, recognizes the right and duty of Israel to maintain order, security and freedom of worship, which will preserve Israel's national honor and the determination that new security measures will indeed be taken on the Temple Mount.

My personal view is that the magnetometers will be of no use anytime tens of thousands of worshipers arrive within hours and huddle on the gates of the Temple Mount. It is impossible to filter all of them through magnetometers, and the pressure that will be generated during the hottest hours on site may cause a very violent combustion. Suspending the metal detectors is therefore also an Israeli interest, provided that it receives backing and recognition that Israel is responsible for and is to maintain the site, in cooperation with Jordan and the Waqf. This diplomatic compromise will not be a surrender, as certain elements will argue, but rather a wise act that enables us to preserve what we view as essential at the Temple Mount, without any predestined bloodshed.