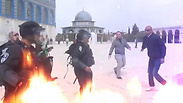 Hamas has distributed a video on social media urging Palestinians to march toward friction points against the IDF in the West Bank and on the Gaza border.

Hamas leader Ismail Haniyeh called on Palestinians leaving Friday prayers to join in widespread protests against security forces in support of the Al Aqsa Mosque.

Hamas video calling for protests

Speaking Thursday night, Haniyeh said, "Tomorrow is an important turning point in the defense of the Al-Aqsa Mosque and we will leave the victors. The Israeli plans for Al-Aqsa will not be carried out.

"This is a red line, you are stoking the fire. We are calling for a day of rage and general mobilization of the Palestinian society and the entire Arab nation in the framework of the campaign to defend Jerusalem and Al-Aqsa."

Hamas spokesman Fawzi Barhoum published a photo statement in which he claimed that Al Aqsa was under Israeli attack and that worshippers were being prevented from praying there.

In east Jerusalem mosques are being closed in order to help motivate people to go to the Temple Mount. Similarly, in Hebron, mosques will be closed in favor of Friday prayers being held in a stadium. Hamas leaders in other West Bank cities such as Tulkarm dispersed leaflets calling for protests after prayers.

Videos and pictures of confrontations at the entrance to the Temple Mount were spread furiously over social media Thursday, with both Fatah and Hamas calling for protests on Friday.

Palestinian Islamic Jihad even announced the cancellation of Friday prayers in favor of large-scale protests.

In response to the calls for mass Friday protests, Prime Minister Benjamin Netanyahu convened a security assessment Thursday evening in Tel Aviv in preparation for the possibility of escalation.

Currently, five additional IDF battalions have been mobilized should protests escalate into violence.