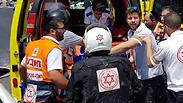 An MDA rescue team
Photo: MDA
A 32-year-old man was moderately-to-severely wounded Monday morning from a stabbing attack near Petah Tikva's Central Bus Station. He was rushed to Rabin Medical Center with injuries to upper body, with MDA staff tending to wounds on his neck. The attacker, a 21-year-old Palestinian from the town of Ar'ara who was illegally residing in Israel, was caught and taken into police custody.
The terrorist reportedly told police that he "did it for Al-Aqsa." He was previously incarcerated between 2015 – 2016 for a nationalistcally motivated attack.
Apprehending the terrorist (צילום:hafakarashit)
The police further stated that "the attacker is a resident of the West Bank who stabbed an Israeli next to a shawarma stand, wounding him moderately-to-severely. The attacker was caught and the incident is under investigation."
The attacker reportedly attempted to escape through a side street, when he was spotted by a driver, who proceeded to ram his car into him.
Tzahi Cohen, who works at the shawarma stand where the attack took place, told Ynet about the moment of the attack: "While I was preparing the dish for (the victim—ed), another driver came in and suddenly I heard him shout 'Attack, attack.'"
"I saw the terrorist coming out of the store, and then he fell on the sidewalk, got up and continued to run toward the alley where he was later caught," Cohen added. "I quickly went to the injured driver. I saw him wounded and bleeding. He kept saying, 'Call an ambulance, call an ambulance.' I took a piece of paper and a shirt and put them on his neck to stop the bleeding, until MDA personnel arrived and continued to treat him."
The incident appears to be the latest in a series of violent and deadly attacks carried out as part of a Muslim backlash against Israel's decision to add metal detectors at the entrance to the Temple Mount area, in which the Al-Aqsa mosque resides.