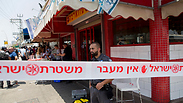 The Abu Halal family from Ar'ara is still surprised by the stabbing of their son, an Egged bus driver, Monday in a Petah Tikva terrorist attack at a local shawarma restaurant he frequented.

The 35-year-old driver was wounded moderately-to-severely after being stabbed in the torso and neck by a 21-year-old Palestinian from Qalqilya. The victim was rushed to Rabin Medical Center where he underwent emergency surgery.

Adel Afaneh, a relative of the victim, told Ynet, "He was completely surprised by the attack. He works hard to support his family and take care of them. We spoke with him and we still haven't digested what happened. He still hasn't recovered."

Afaneh added, "We are against terrorism everywhere, such a case can harm any person, Arab or Jew, not only Jews. I hope that such events will not happen again, because we all want to live quietly without any danger to our lives."

Another resident of Ar'ara told Ynet that he believes "what happened was because of what is happening at the Al Aqsa Mosque. It is time to remove the metal detectors—otherwise more terror attacks could happen everywhere. The police are the ones endangering the lives of the citizens because of their stupid decision to harm the Muslim faith and worshippers.

"The atmosphere is very tense. Damage to the Al Aqsa Mosque causes a lot of people to become angry and there is no way to go through it in silence. I am against terrorism and don't want any tension, but the government and police need to take the situation into account and respect Muslim holy places."

Upon his arrest, the terrorist told police he "did it for Al Aqsa." He had previously been incarcerated for a separate nationalistic crime from 2015-2016.

This attack is the eighth violent incident within two weeks to be connected to the events at the Temple Mount.