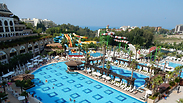 An all-inclusive club in Antalya, Turkey. Do you really want to go there?
Photo: Danny Sadeh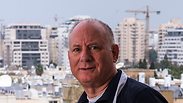 Danny Sadeh
Photo: Yuval Chen
Why would anyone vacation in a country that spits in their face?
Op-ed: Regardless of the fact that I'm afraid to travel to Turkey, I find no reason to visit a country whose president uses every opportunity he gets to attack Israel or try to meddle in its internal affairs. Why would I want to invest my money in this tyrant's economy?
In one of his delusional speeches, Turkish President Recep Tayyip Erdoğan this week called on the entire Muslim world, and the Turks as well, to visit the Al-Aqsa Mosque, because "that was Prophet Muhammad's commandment."

He didn't let the fact that the mosque was built 70 years after Mohammad's death confuse him. Just like he denies the Armenian genocide, the arrest of thousands of citizens, who have been jailed for many years and subject to forced labor or executed one way or another.

The truth is I couldn't care less about Erdoğan. What I do care about is the rise, or should I say leap, in the number of Israelis who have travelled in recent weeks and months to Turkey's vacation resorts, the all-inclusive clubs in Antalya, as well as the occasional media reports presenting the people of Israel with all the nice, beautiful and luxurious things Turkey has to offer.

Yes, I used to vacation in Turkey too, before the Marmara incident, and I used to write that these vacations offer the best value for money. I travelled there again after the Marmara incident, when it seemed the Turkish president was beginning to reconcile with the State of Israel, and I went back to writing about what the Turks have to offer.

But like many people in Israel, I was wrong too. the Turkish president hasn't changed, and there is no reconciliation between him and the people of Israel. He gladly seizes every opportunity he gets to attack Israel or try to meddle in its internal affairs, presenting himself as the most important Muslim leader in the world.

In a television report aired two weeks ago, Israeli families explained that they had travelled to Antalya because they had no other choice. "There was no room in the other destinations we wanted to go to, so we went to Antalya," they said in a sort of fake apology. That's a pretty lame excuse and delusional answer to the question why do people even go to Turkey.
Money has no smell
Personally, I have no intention of going there as long as the tyrant is on his throne, and I won't go either if his successor follows in his footsteps. The truth is I'm afraid to go there. Every time I receive an offer to go on a business trip to Turkey, I refuse politely. Images from the film "Midnight Express" pop up in my head, and I really don't want to take any risks.

But beyond the fear, I find no reason to travel to a country whose leader spits in your face and in my face, day after day and hour after hour. I have no reason to invest my money in the Turkish economy.

I'm not a public opinion leader and I won't call on anyone to boycott Turkey and not to go there, if that's what they want to do. Neither will I call for a boycott of the travel agencies that sell vacation packages to Turkey. Money, as you know, has no smell.

I do hope, however, that if something happens in Turkey, God forbid, all those who go there and ignore Erdoğan's incitement will remember that there is an advisory against travelling to the tyrant's country. If something happens, God forbid, and I hope nothing happens, they shouldn't call on the Israeli government to come and rescue them. When there is no lifeguard in the sea, one shouldn't go into the water.