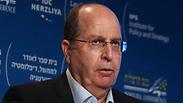 Moshe Ya'alon
Photo: Motti Kimchi
Ya'alon: Netanyahu 'folded' over Temple Mount
After Netanyahu sanctions removal of all recently-installed security facilities at the Temple Mount, and Grand Mufti of Jerusalem OKs resumption of prayers at the Al-Aqsa mosque, former defense minister scolds PM for capitulating; 'even schoolchildren can see he failed.'
Former Defense Minister Moshe Ya'alon derided Prime Minister Benjamin Netanyahu on Thursday for "folding" in his decision to remove the final remnants of recently-installed security facilities at the entrance of Temple Mount.

Shortly after the Jerusalem Grand Mufti Mohammed Hussein and Muslim elders encouraged worshipers to return to pray at Jerusalem's Al-Aqsa Mosque on Thursday after deeming that Israel acquiesced with all its demands, Ya'alon unequivocally pointed the finger at his former boss.

"The prime minister failed, not only with this but with other things. It's his responsibility," Ya'alon said in an interview with Ynet.

Metal detectors were erected in the wake of a terror attack earlier this month involving three gunmen who killed two police officers, generating an enraged Arab and Muslim public, both in and outside Israel and sparking daily clashes with Israeli security forces.

According to Ya'alon, after the murders, an opportunity arose to "remind Jordan of what we have demanded in the past. Also an improvement in the deployment of security—including metal detectors or other search methods."

Asked who bore ultimate responsibility for the crisis that ensued as a result of the beefed-up security measures, Ya'alon placed the blame squarely at the prime minister's feet, insisting that he should have held serious discussions before making the decision to install the metal detectors in the first place.

To Ya'alon, the entire episode concluded with a clear Israeli capitulation. "You don't need to be a security expert to understand that.School children and kindergarten children recognize that."

While adding that Israel had not lost the tactical edge as a result of the latest decision to remove the security facilities, Ya'alon said that the US had to be enlisted in order to put Turkish President Recep Tayyip Erdoğan "in his place" who he said had exploited the situation for his own purposes.

"He is running a campaign on the Temple Mount, which includes conferences in Istanbul titled 'Al-Aqsa in Danger,' which includes provocations reminiscent of the Mavi Marmara. This can be called the Marmara 2."

He went on to highlight a phenomenon of Turkish tourism in Israel specifically and deliberately designed to agitate on the Temple Mount. "Muslims from Turkey come here with Turkish flags and wreak havoc on the Temple Mount."

Turning back to the consequences of Netanyahu's decisions throughout the crisis, Ya'alon refused to say whether he thought he had harmed Israel's security. "I don't want to give headlines."

In stark contrast to Ya'alon's critical review of Netanyahu's leadership performance, Minister of Energy and Infrastructure Yuval Steinitz (Likud) praised him for what he described as a "courageous decision."

"The prime minister and the cabinet made a brave decision that was not easy," Steinitz said in a separate interview with Ynet on Thursday. "It was clear that it would be criticized," he said, adding that rather than this being an example of "zigzagging or capitulation" he saw "brave leadership, which made a new assessment and understood the implications…"

He further insisted that no deterrence had been lost as a result, deriding Hamas's comments that the removal constituted an "historic victory against Israel, its army and the government."

"Hamas always declares victories about almost every single thing that happened. We implemented a tactical-strategic withdrawal and I think it is appropriate to praise the prime minister and the cabinet," he added.