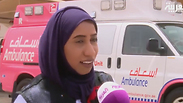 One of the medical professionals operating the women-only service
In the past month, the streets of Dubai have been dotted with pink cars with women in pink uniforms. The phenomenon is a new initiative called the Women Responders Unit, intended to provide first aid and emergency services for women only.
The project was launched by the state ambulance service about a month ago, to allow women more privacy in these situations. "In our society, Arab Muslim society, when patients call for help, they want privacy and they want to feel comfortable," said Bashayer al-Rimm, an emergency medical technician, in a conversation with AFP. She added that they are looking to preserve the privacy of the woman in a way that is consistent with our customs and traditions.
"This is a fully trained female team," said one of the project's superiors in Dubai. "The driver has a lot of knowledge in getting to the scene of accidents with casualties as soon as possible, and this is also true of the first aid provider in the vehicle."
Dubai said last month that there was a demand for pink ambulance services from women in the emirate. The service was designed to help women who were in labor and children who were in distress. "We have already received 55 calls," they said. Following its success, they intend to introduce another vehicle as part of the service.
Not everyone in the Arab world has applauded the project. One such criticism came from Egypt, where a service of pink taxis has already been launched, offering transportation services to women alone, in an effort to combat sexual harassment, a phenomenon that has become wide-spread in Egyptian society. A female anchor from Egyptian channel DreamTV referred to news of the Saudi Women Responders Unit by saying, "We like to imitate everything, but we are also a slightly more open society." she added that "these things are a bit more suitable for the Gulf countries than for us.
Guys, it's medicine. It shouldn't be segregated," the anchor added. "There are many things like women's cafés or taxis for women, which deepen the separation in society. In the end, we are all human beings."