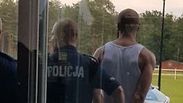 Polish police arrest attacker
A Polish soccer club, Legia Warszawa, said Friday it condemns anti-Semitism and vehemently denied that any of its fans were behind an attack on an Israeli soccer team.

Masked soccer hooligans attacked and slightly injured two Israelis following a friendly match in Poland on Wednesday. The Israeli Embassy in Warsaw described it as "anti-Semitic incident."

The match took place in Suchocin, a town near Warsaw, between Israeli club Hapoel Petah Tikva and local Polish club MKS Ciechanow.

The Israeli club said fans of Warsaw's Legia Warszawa club emerged from a forest and attacked Hapoel Petah Tikva staff members.

The Simon Wiesenthal Center, a Jewish rights group, has urged European soccer's ruling body to take disciplinary measures against Legia Warszawa over the incident.

Security footage of the attack

Legia Warszawa said in a statement Friday there were "no grounds to link our club to the incident that took place in Sochocin." It noted that the town is 70 kilometers (45 miles) away from Warsaw and that the team was preparing for a different match at the time of attack.

The club said it considers the Wiesenthal center's move to be unjustified and "very harmful" to its image.