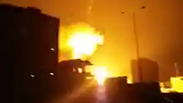 Israel strikes Hamas positions in Gaza after rocket attack
The Israeli Air Force launches fresh overnight strikes on two targets belonging to the Hamas terrorist organization in northern Gaza in response to rocket fire from the strip on the Hof Ashkelon Regional Council on Tuesday evening; Hamas warns 'this is crossing a dangerous line.'
The Israeli military says it carried out airstrikes against two Hamas positions in Gaza overnight Tuesday in response to a rocket fired from the strip which landed in open territory in the Hof Ashkelon Regional Council.

Ayman Sahbani, an emergency director at Gaza's Shifa hospital, says three Palestinians were wounded in the strike, including a 26-year-old man who was in serious condition after being struck in the head by shrapnel.

The airstrike on Hamas positions in Gaza

The rocket fired into Israel, which landed in an uninhabited field in the Hof Ashkelon Regional Council, caused no casualties or damage, a military spokesperson added.

"This is crossing a dangerous line that Israel will bear the consequences of," said Hamas after the Israeli retaliation. "We will not allow Gaza to be turned into a testing field for Israeli ammunition."

Israel has seen occasional rocket fire from the Gaza Strip in the three years since its last war with Gaza's militant Hamas rulers. Most have been claimed by Salafist groups in the territory.

Israel holds Hamas responsible for all fire out of the strip—even rockets launched by any of the various militant groups challenging it.

Hamas and Israel have fought three wars since the Islamic terror group took control of Gaza a decade ago, most recently in 2014. A cease-fire has largely held since then.

Yoav Zitun, Elior Levy and Matan Tzuri contributed to this article.