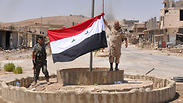 Assad army raising Syrian flag at As-Suwayda
Photo: AFP
Jordan's Information Minister and government spokesman Mohammad al-Momani said Sunday the kingdom opposes the presence of Shi'ite militias supported by Iran on its border.

The Syrian army has recently managed to regain control of some 30 kilometers of its border with Jordan, previously held by rebel organizations, according to reports by the Syrian army and two rebel groups. It did so with the help of Iranian-backed Shiite organizations.

"This is unacceptable," al-Momani said. "We view this presence as a strategic threat and will take the necessary steps to ensure there is security and stability on our border."

Syrian army at border with Jordan

"There are regional countries that see this issue more severely than Jordan. The international community and world powers regard the matter with the same severity that Jordan does," Al-Momani added.

On the recent achievements of the Syrian army on the border with Jordan, the Jordanian minister said that "it is early to judge these reports. We have not received information confirming them."

A spokesman for another rebel organization said the Assad regime's achievements were made possible by the sudden retreat of a Jordanian-backed rebel organization responsible for patrols along the border.

It was also reported the border crossings the Assad army took over were the main crossings through which the rebel groups transferred weapons to their operatives from Jordan into Syria.

The London-based Syrian Center for Human Rights confirmed the reports of the Assad regime's achievements on the Jordanian border and explained the regime had used the cease-fire in the nearby Daraa district to launch a strenuous offensive in the nearby As-Suwayda district.

"The regime's forces launched an offensive on both sides of the eastern part of the province, and most of it is now in its hands," said Said Seif, an official with the Western-backed Free Syrian Army Shahid Ahmed Abdo rebel group. "The army advanced toward the border and re-took control of positions it abandoned in the early years of the civil war. They are now on the Jordanian border."